Gold Contributor
Speedway Pass
Nov 26, 2016
251
1,157
361
31
Having followed the OP's stuff for several years, I figured it might be worth posting some thoughts here - both for posterity and anyone searching for information about
Damian Prosalendis SPXMAC
.
Firstly, I found that it's
not
just Instagram followers/comments he's bought before...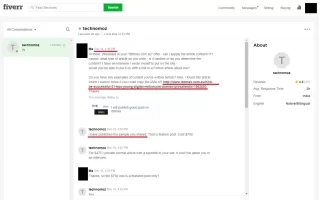 I trolled him anonymously on Twitter about this and got the same response to you guys - "liar / you're wrong". Even if I am wrong, or the Fiverr guy is lying, it seems highly suspect that IBTimes.com.au would run a story on the OP despite him not being in Australia. Why didn't other outlets pick it up?
To be honest, I don't care.
As I've aged, I began ignoring
what
people are doing, and have taken a keen interest in
how
they're doing them. I'm intrigued about the OP's hustle and respect what he's done (his Fiverr stuff is legit). However, you have to appreciate that as you get up the socio-economic totem pole - people become attuned to bullshit.
There's nothing wrong with buying editorials / posts / shoutouts (it used to be called PR) - but to pretend that it's not what you're doing is lying; treating people like idiots. As mentioned, for those who've been around the block a few times, spotting this is relatively simple. The antidote is
results
. Post results and all the "criticism" / "haters" go away. If you don't have results, you're
wasting people's time
.
To this end, the OP can rest
relatively
easily because he does have results. I know his Fiverr account and what he says about it is legitimate. However, trading off those results is not going to bring in 1,000,000+ followers.
This is the crux of his issue, and what I
may
have a solution for.
--
The reason I felt it appropriate to write this is because of a set of
constructive
criticism that I came up with several days ago. It's easy to bring people down - much harder to bring them up.
I think a lot of people jumped on the bandwagon and ignored that it's meant to be a
progress
thread. I believe the OP would have been better to be more open - but perhaps that would have been better suited to the Insiders' forum (which I'm not a member of).
If you take away the character assassination he brought on himself - and observe the underlying goal he's trying to facilitate (which is basically to extend his personal influence to the level of 1,000,000 followers), there are a number of things the OP hasn't really considered.
I wish to discuss them here...
To do this, I want to introduce a YouTuber / "social media" personality who's channel is growing at the rate of 3,000+ subs
per day
. He's from the UK and basically does "parkour" / "urban climbing" where he goes around buildings to climb them, or sneaks into swimming pools to do "overnight challenges".
The guy's name is
Ally Law
and is receiving a decent amount of press in the UK for his "stunts".
He's climbed buildings around the world and is continuing to "ply his trade" within the UK.
Having watched some of his videos, the draw isn't the building / climbing / stunts themselves... but the fact that the
police
or
security
turn up. The thrill of him escaping - or having to deal with the consequences - is pretty much what makes his videos worth watching...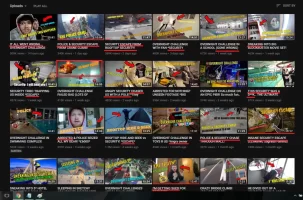 As mentioned before, I don't really care about
what
he's doing. I'm glad he's out of the house (used to be a game addict) and is enjoying life. He's not hurting anybody and if I were the police / court, I'd actually try and strike a deal whereby he is hired as a "bridge painter" or something as means to facilitate reparation for any issues he causes.
Either way, he's making bank and attracting a
substantive
audience online.
This
audience
is the most important thing, and what the OP is trying to attain for himself.
Pertinently, there are a number of points the OP seems to have overlooked...
There are *PATTERNS* for personal branding - a niche (and its comparable content) being the most important, followed by consistency and authenticity (more in a second)


"Social" is a *SINGLE* entity -- YouTube / Instagram / Twitter are not "audiences" in of themselves, but platforms through which an audience can communicate with you. In other words, you're typically dealing with the SAME people on different platforms


*SELLING* to a social audience is notoriously difficult (although not impossible). This is in line with something called the "Free Line" by Eban Pagan, whereby the more you give away "for free" - the more people are willing to pay in the backend. If you flip this on its head (the easier it is to reach an audience, the less they will be willing to pay higher fees), it would go some way to explain how the "social" landscape operates. Lower barriers to entry = Lower quality prospects


People don't like *YOU*. You're simply a vassal for their own fantasies / desires. Their attention is mostly ephemeral, and - ultimately - they're trading their time/attention for your message. If you're worth their time, they'll stick around. Again - the more you "give away" for free, the more likely they're to stick around. Momento Mori - people have their own lives to lead and don't want to waste their time with idiots


You're selling *CRAZINESS*. As much as I disagree with this, the only reason people follow "you" is because of the "lengths" you're willing to go to make life interesting. This works in both a business and personal capacity. Elon Musk alluded to it when he said the public responds to "superlatives and precedents"; Richard Branson "got it" when he did crazy stuff to promote the Virgin brand in the 80's "Sir Freddie Laker showed me the influence getting splashed on the front pages rather than buried in the middle pages could have" - the ONLY thing that matters with "social" branding is how *crazy* your stunts / activities are. Obviously, they need purpose - but the bigger & more ambitious your activities, the more people will be interested in you as an individual (explained in a second)
--
It's
no
secret that if you want to get a large following (of idiots), there are basically
TWO
things you need →
girls and money
. Colloquially known as "
flexing
", it's a tried-and-tested formula for views / subscribers...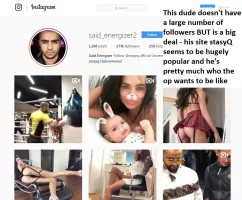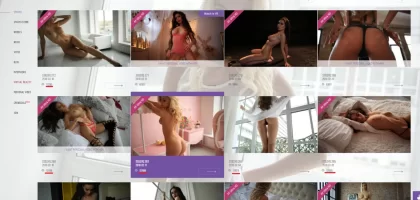 Show people a lifestyle they don't - and likely will never - have, and they'll go crazy trying to get it.
It's one of the cornerstones of capitalism, and essentially what powers everything from fashion to high end sports cars. It's why "sex sells" and why people do strange / crazy things (gambling debt) in order to try and achieve it. They want the "good life". And if you want to identify a scammer, just add the words "and all this can be yours..." to see how that side of things works.
However, if you've progressed past the
anal stage
, you'll know that all of the above is not really what a "real" life is about anyway. Sure, nice cars and pretty women are truly great (in small doses) - but as a means to an end, they're hideous. If you have 20 "good" years on earth (with decent income, loving partner, family), all of life's finery will not buy you any more time / class / style etc.
This seems to be the issue the OP has. Whilst he's done well with his Fiverr - and seems to be doing well with e-commerce - his self declaration of being a "millionaire" and "soon to be worth $100,000,000" are indicative of someone looking for the "easy money" (in the sense of a following); unwilling to put in the grind to actually build up real subscribers. This superficial bullshit (and lying about it) is pretty much why he got called out.
Whether that is important is irrelevant. What
is
important is the underlying audience the OP will be building from his activities. In enterprise buzzwords, they're known as KPI's (Key Performance Indicators) - how well particular activities / strategies / tactics are working to provide
results
(money).
In its current form, I'd stipulate the OP's audience is likely made up of broke students and wannabe digital nomads. Undoubtedly, there'll be some successes in there but the point is that the majority will *not* have any real underlying substantive business. They'll be trading on "hacks" / "tricks" - always looking for the next trend to cannibalize.
So what's the fix?
It's actually quite simple - and something he
already
has (hence why I decided to write this post)...
Authenticity
The
ONE
thing that Ally Law has over
EVERYBODY ELSE
is he is 100%
authentic
.
He's
not
trying to get you to buy his clothes. He
doesn't
have any hidden agenda to try and conquer the world. He's simply going about his life - doing his "madnesses" and getting into trouble for them. The filming of these is the icing on the cake. He's giving away his stuff *for free* and then receiving recompense through the likes of ads and merch sales. This is the standard model on YouTube etc - companies that go there to sell are typically treated very harshly indeed (although that's not to say they're unsuccessful in their pursuit).
You get to live
through
his videos what you don't want to risk yourself. It's gutter-level entertainment at the best of times... but is a
GREAT
example of how to
naturally
grow an audience of 1m+ people.
He holds
nothing
back. And that's why people love what he's posting.
Now, we can take this and perhaps apply it to the OP - to give him a more synergistic social strategy.
If we do it right, not only should he able to reach his goal (with
MUCH
more momentum than he has now), but it should also do the
ONE
thing that he should be concerned with - multiplying the bottom-line... and having people
thank
him for the privilege...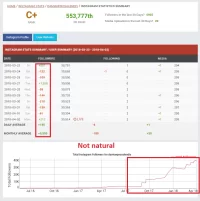 Regardless of what the OP says, the above is not "natural". Unless he got featured by several massive accounts, growth is too disjointed for it to be organic. Look at Law's stats above - the curve is much smoother.
The way around this is to
leverage what he's already done
and use that to grow the underlying "assets" that he may be lacking (social). This is basically the core of what the OP really needs to grow. In other words, he's trying to be "Richard Branson" without a "Virgin" to promote - he has no
reason
to be sharing content (apart from his own self-aggrandizement). This lack of
congruence
is why he comes across as "seedy" or "scammy".
Ironically, he
already
has his "Virgin" -
SPXMAC
. This is the business he started on Fiverr and appears to be providing him with the liquid cash flow to continue his activities. I don't know anything about the business or his other work - but I do know that SPXMAC is legit and actually provides a great service to its clients.
To move himself forward socially, my recommendation would be to take SPXMAC and
document
"CRAZY" growth progress by utilizing his e-commerce empire. This will mean exposing his
ENTIRE
business to the scrutiny of the Internet... but if he's 100% genuine, consistent and actually legitimate (none of the auto-fellatio bullshit) - it would actually work to grow a larger & more acclaimed audience.