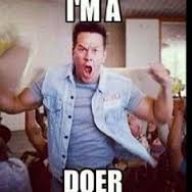 Legendary Contributor
EPIC CONTRIBUTOR
Read Fastlane!
Read Unscripted!
Speedway Pass
Starting off with Health: I'm down 290 lbs. Still One Meal A Day (6oz fish, lots of veggies). No CARBS or Sugar (soda). Drinking plenty of water.
Nice work!!
Working for the rest of my life for someone else isn't my goal or plan.
Nothing wrong with working for someone else when/as you need to.
By working at the Hospital. I have access... meeting people from all walks of life. This, has opened me up quite a bit. Meeting new folks, etc...
This is huge for me, maybe it is for you too? When I get frustrated in life (with my personality it happens a lot lol), I tend to shut down, push people out, disconnect, quit being social etc.
I find myself hiding behind a screen (laptop or phone), and trying to avoid, well...my problems I suppose.
It makes things
so much
worse to do that though.
So I make an effort to get out around people. Anything really. Bring a friend a coffee, take my mom out to lunch, talk to someone at the grocery store, take my kids to a park and strike up a conversation with one of the other parents (always moms at the park during the day, never dads because they are working...kinda sad to see really), heck, even engaging people here helps.
I'm a very social guy, and reconnecting with people helps to maintain an abundance mentality for me. (there's lot's of people, therefore there's lot's of opportunity to provide value = lot's of money to be made)
Anyway, a life changing mindset shift for me was "frustration = engage more"
Maybe it's the same for you.