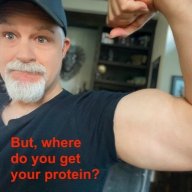 I followed the science; all I found was money.
Staff member
FASTLANE INSIDER
EPIC CONTRIBUTOR
Read Rat-Race Escape!
Read Fastlane!
Read Unscripted!
Summit Attendee
Speedway Pass
User Power
Value/Post Ratio
438%
Jul 23, 2007
36,990
162,179
Like to post something but it doesn't need its own thread?
This thread is for you!
Thought I'd create a random thoughts and chit-chat thread for anyone who'd like to post something, but it doesn't need it's own thread.
For example, I just learned today that an idea I had years ago for an airport valet service is now reality. Not only is it reality, but it is growing and grabbing funding.
The service is EXACTLY as I envisioned it would be.
OAK and LAX Long-Term Airport Parking : Never Park Again
Darn it!
The old, "Damn, I had that idea!!" strikes again!
That said, I might invest as they are taking accredited investor money.