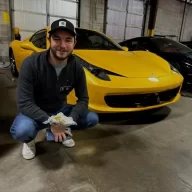 THE TRUTH IS OUT THERE
FASTLANE INSIDER
EPIC CONTRIBUTOR
Read Fastlane!
Read Unscripted!
Summit Attendee
Speedway Pass
I've been wanting to do an AMA (Ask me anything) for a while. I've built a desktop software company worth 8 figures, but I'm aiming for $1 billion, not to be a unicorn, but just because I think its the natural progression of where I'm headed. I started the company in 2016 and I have 15 employees and I've never taken on investor money despite rejecting quite a few offers. In MJ's own words he thinks that my company will be the first 9 figure (hopefully 10 though) exit on the forum. I built everything from the ground up on the business end by myself. I brought on my initial founding partner with equity and a few initial employees with equity. I've had experience negotiating a multi-million dollar contract and building an entire IP from nothing which has seriously upset an industry as we came out of nowhere. We also follow profit first accounting methods and do quarterly dividends. I don't want to publicly name the company here but I'm happy to answer general business questions or give advice on situations you may be in.
I don't really believe in outsourcing cheap labor or paying/treating employees like dispensable objects. Everyone in my company makes a minimum of $80,000 a year, even if in their country it's perfectly acceptable that they're paid a fraction of what we pay them. I believe in treating both customers and employees as well as I possibly can in an effort to retain their strong talents.
Ask me anything about:
Managing employees and building a team
Subscription and permanent license based software
Bootstrapping your business & working on the biz while you have a day job
Dividend distributions and taking money out of your business
Building a successful software company, even if you can't code (I can't)
General business advice, mindset, etc
Anything that you feel you want to know about someone who's gotten as far as I have
If you know the company I run or my industry, please do not mention it in this thread. It is irrelevant, and if anything it's a harder industry to be in than most.
Last edited: