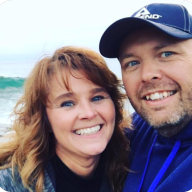 Legendary Contributor
Staff member
FASTLANE INSIDER
EPIC CONTRIBUTOR
Read Fastlane!
Read Unscripted!
Summit Attendee
Speedway Pass
Oct 13, 2011
4,092
17,151
51
A traveling salesmen was passing thru a small country town and stopped at a mom and pop convenient store to pick up snacks and a drink. The place was an old building with old wooden floors and owned by a man well into his later years.
As the salesman shopped he noticed a bloodhound laying in the corner. Every once in a while the dog would let out a soft howling moan. The salesman came to the register to pay. As the store owner and the man made small talk the bloodhound let out another painful moan. This prompted the salesman to ask, "What is wrong with your dog? Is he okay? He seems to be in some kind of pain."
The old store keeper said, "Oh, there be a nail that sticks up out the floor board over there and he just happens to be layin' on it".
"Well he's surely in some pain. Why don't he just get up and find another place to lay down?"
The store owner thought for a second and said, "Well... I reckon it just don't hurt that bad."
For many, many years I was that bloodhound.
I'd whine, moan, groan and complain about my situation... my lot in life.
One day I realized I had the power to do something about it. I guess I always had some understanding of this but never a revelation of it until February, 2013.
No, I never took NLP classes or studied Tony Robbins material (not that there's necessarily anything wrong with that). I just had an epiphany, a 'sudden and striking realization' that I've settled and everything that I've moaned about was a result of past decisions and I had the power to change it.
I was sick and tired of being sick and tired.
I couldn't take the pain of laying on that nail any longer.
I got up and moved.
I surrounded myself with world class people.
Changed my mindset. Changed my lifestyle. Changed my diet. Changed my friendships. Changed my geographic location.
And me and my family's world has drastically changed forever for the better. Physically, Financially, Relationally and Spiritually.
A few days ago we celebrated our 1 year anniversary of moving to Arizona. Hands down the best decision we have ever made. There is no going back to that 'nail in the floor'.
TL;DR
I'll close with a question...
Is the dissatisfaction of your current 'lot in life' painful enough to do something drastic enough to bring about a change?
Life doesn't get better by
chance
. It gets better by
change
.
Take care my friends.
Allen
Last edited: