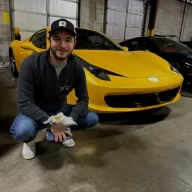 THE TRUTH IS OUT THERE
FASTLANE INSIDER
EPIC CONTRIBUTOR
Read Fastlane!
Read Unscripted!
Summit Attendee
Speedway Pass
I've got a friend that I call a few times a month to see if he's taken action on his ideas and help him break down any barriers he may have. We'll talk about what he's doing and he'll throw up a bunch of excuses about why he can't launch yet, albeit it's been 4 years since he started his entrepreneurial journey. His excuses may be something like this; "I have to have videos first, I have to have a website first, I have to have this and that before I can make my first calls". Mind you, this cycle has been going on for years, but he's made a bit of cash here and there while hustling.
I never knew if there was a single question I could ask that would help him find out what it was he really wanted from being an entrepreneur.
I had a thought that maybe I should figure out what question should be asked at the beginning of anyone's journey.
The question that popped into mind was:
Do you want a lifestyle business, or an enterprise?
It turns out he wanted a lifestyle business, but was getting advice from someone building an enterprise. He never knew that what he wanted was a lifestyle business, but now he can go out and get the resources he needs to get it done.
I think that this is a fundamental question that any entrepreneur should ask themselves before starting any sort of business.
What is it that you are wanting out of your journey? What do you want your journey to look like?
Let's break down the two business types.
Lifestyle Business:
Some E-commerce/Amazon businesses, drop shipping, SEO services, copywriting services, Freelancing, other internet related ventures that focus solely on you as the one and only "employee" in a company. Lifestyle businesses make enough to cover your lifestyle and that's about it. They allow you to potentially work a few hours a day, if that, and from anywhere in the world.
Disclaimer:
Some lifestyles may require millions of dollars a year, so you make that much to suit your lifestyle.
Do you want "profitability" within 1-2 years, or even after few product sales?
Do you want to be able to work from anywhere in the world with just a laptop and an internet connection?
Do you want to travel a ton and have your journey to be filled with daily adventures?
Do you want to do whatever you want, whenever you want, without worrying too much about money?
Do you want to work as little as possible, no shame in this, and still be able support your lifestyle?
If you answered yes to most of these questions, you probably want a lifestyle business.
Enterprise:
Some software companies, franchises, massive brands (Yeti Coolers, Johnson and Johnson, Hershey's), large brick and mortar operations (BNSF Railroad, RotoRooter, Gamestop), real estate. Enterprises are huge beasts of scale and a product of relentless execution. Businesses that are at the top of their game, with the intent to dominate a particular market. Enterprises offer you the chance to exit for a large sum of F*ck you money, in exchange for sacrificing 10 years of your life.
Are you looking to build something with massive scale and impact?
Are you looking to build something with the intent to exit for 8 figures or more?
Are you looking to build a team that can take you places farther than you could ever go on your own?
Are you interested in being a CEO of a large company?
Are you interested in working 60-80 hour weeks for years? 40 hours from a dayjob are included in this estimate and don't burn yourself out people, be smart.
Are you willing to risk 5, 10, or more years of your life to see a business idea through to its fruition?
Are you looking to get investors to invest in your products and ideas?
Are you looking for your own David vs Goliath journey?
Are you looking to push yourself to your limits and build a legacy?
If you answered yes to most of these questions, then an enterprise business is probably for you.
The right choice is what it is you want for yourself. For me, I want an enterprise. I want to take down some of the biggest companies in my industry. I don't care about traveling, or going places. I just want a massive project to work on and lead a team, as that's what satisfies me.
What would satisfy you might be sipping coconuts on a beach in Puerto Rico and enjoying seeing $500 in profit for the day. You might enjoy a trip to Thailand to meet up with other like minded lifestyle entrepreneurs for a few months just because you have the freedom to do so.
Not everything is sunshine and rainbows, and both journeys have their own challenges.
Think about what sort of business it is that you want, lifestyle or enterprise, and then figure out how to build it.
Last edited: