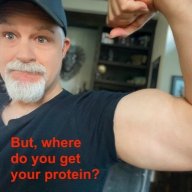 I followed the science; all I found was money.
Staff member
FASTLANE INSIDER
EPIC CONTRIBUTOR
Read Rat-Race Escape!
Read Fastlane!
Read Unscripted!
Summit Attendee
Speedway Pass
User Power
Value/Post Ratio
426%
Jul 23, 2007
35,954
153,072
Thought it would be cool to have a separate stock market discussion thread, like the "Random Thoughts/Chat" thread -- this is the thread to post in if you want to discuss any stock market trading day, including any insights or forecasts you might have. Or, this is the place to post random economic activity information, posts, tweets, etc.
Here is the thread to vote on where 2022 will end:
Where will the 2022 stock market end up on Dec 31st, 2022? Please vote your thoughts and feel free to comment. For voting purposes, the stock market to predict is the Dow Jones Industrial Average... On Dec 31st, 2021, it looks to close around 36,000 Where will it be on December 21st, 2022?
www.thefastlaneforum.com
So I'll start...
Which is to say that we're having a pretty interesting start to 2022! Is this just a minor correction, or something more ominous? This downdraft is caused by interest rate speculation, and that the FED will start raising them.