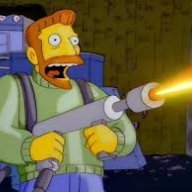 Bronze Contributor
Speedway Pass
DennisDuty, Vigilante I agree. The only one to blame, in my case..well..is ME. When I joined I didn't expect somebody else to magically hand over a 5-6 figures per year for me. I've been there once I know how hard it is to get even the smallest gain.

I joined because I constantly invest in myself, I want to learn more. The issue I see here is the "perceived value" and what it really is.

If I remember right, MJ said this: You walk in a fitness class (with the right mindset to drop weight to become healthy, to learn about it, etc) and all of a sudden a FAT guy comes and stands in front of you. That's your MENTOR. A FAT guy who know everything about the diet and getting that 6-pack abs.


Here's a thing I NEVER SEEN, EVER in any webinar, marketing /seminar, you name it:

Man, if you did this ONCE, the SAME WAY you teach us, then fine - START WITH US. We start from 0, you start from 0 with us. You fail, we fail. We ALL learn. Great thing that we have something to relay on (that you already did) but you start with us. People teach you to do this, do that, go talk to X, Y, Z bla..bla...bla...but it's actually one thing to GO TALK and other thing to simply lay out a beautiful plan. In my opinion if you don't take the same steps that we take, you're basically telling a nice story on how you succeeded. But what about that 100 A/B tests you took on the Landing Page or those 40 people you interviewed?


If the intention is to help people THEN why on earth do I see these *marketing signs* in most sales funnels (big launches):

- "We are not sure yet if we are going to accept you in the program. We'll have to think about it and send a reply in a few days"
- You JUST pay 3 payments of 997, or 97, or 1997 $ and you can have access to the program (Ohh really? Why "97" or "197" why these digits "9", "7" and not simply $1000 or $100. BECAUSE IT SELLS. That's why. X GURU discovered this. Let's follow him)
- ACT NOW. BUY NOW. ONLY 3 PLACES LEFT. CLOSING TONIGHT.
- P.S. and P.P.S at the end of the letter with the CEO signature or face
- This BONUS that it's worth $999999999 but because we are BUDDIES I'll give it for $9
- 30, 90, 365 MONEY BACK GUARANTEE
- Pay 5 figures to meet the GURU, the CEO, the MASTER in a SUPER SECRET LOCATION where..hmm...maybe you'll drink some coca cola and play football and see how great it is to be a CEO.

I've NEVER seen any of these so called "marketing tricks" at MJ. Why didn't he promote his book like this? There's no need to. It's such tremendous value inside the book.

To end this, I have nothing against Dane, it's just I can not trust what he says. I've seen too many of these "marketing tricks" that I'm sick of. It's almost to the point where it's chaotic. Don't believe me? Try your spam folder. Reverse the path of any offer you have there.
I totally feel where Adrian is coming from
as a side note I will say Pat Flynn does build a niche/authority site along with his readers and he gives answers right away as to what he did wrong and does it for free... Pat is really one of the only good guy info marketers out there-- and shockingly Dane dropped Pat Flynn's name during the advertising for the foundation-- this is one of those things that made me buy in-- Pat says its okay-- it must not be a scam
but to address another one of Adrians points...
Dane did often repeat his story of how he built his own SaaS
what I found a little odd was that Dane didn't "idea extract" the idea-- but had a family member/friend give him the idea and insist that he make it-- which to his credit he did and did very well
the whole foundation was about the concept called " idea extraction" -- and I wish Dane did the process himself live or uploaded and recorded many calls that he did-- he only uploaded 9/10 of one call he did to a pool cleaning industry
I would have LOOOVED to see Dane do a screen cast of choosing a new industry, and audio of 10-15 idea extraction calls then emails he sent out
it felt very theoretical
maybe Im just coming off as angry and sour but those are just the feelings I had