For anyone who's on the fence... I highly suggest joining Andy's forum. It's amazing how fast he got it up. And he shares a lot of good info.
Also, his methods work. Here's the proof from a test that I ran in my account. It's a small sample size from one campaign. But it's starting to work well across the whole account.
The Test Column is using most of the stuff that I learned from him.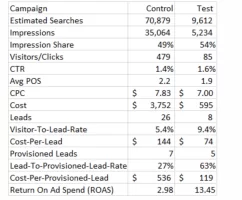 Using a slightly modified version of his methods, I reduced the monthly cost from $3,752 to $595 while increasing the quality of my leads. CPA for Valid leads (provisioned lead) dropped about 4X and ROAS went up 6Xish.
And the test campaign had some issues too. It's only getting better.
If you want to learn adwords, I'd start here.