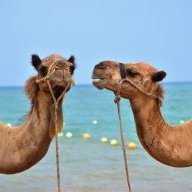 Contributor
Read Fastlane!
Read Unscripted!
Hi all,
in this thread, I am going to track progress towards my 2019 goal:
Increasing my agency revenue from currently 3k (average of last quarter 2018) to 15k.
In my model calculations, this number should result in sufficient profits for me to give up personal freelancing and live off of my agency profits. Both the freelancing and agency are in the field of content marketing, in a certain niche.
This thread is for my own accountability more than anything else, but of course, I'm happy about suggestions, constructive criticism and other kinds of feedback.
What is the current bottleneck?
Sales
, for sure. In particular, we don't have enough clients that bring recurring revenue. Traditionally, both my freelancing and my agency clients come with sizable, but one-off projects.
Thus, we need to increase 1.) the total number of agency clients, and 2.) the proportion of clients who bring in recurring revenue.
In the past, I have probably focused too much on vague marketing, rather than actual sales. In order to change this, I have started reaching out to prospects in a systematic way this week, and will continue to do so throughout the year.
What's the detailed plan?

- Reaching out to 10 prospects from our niche every day, 5 days a week.
- For now, I intend to do this via email. I already have several lists with personal email addresses compiled by my VA, and I will continue to research more, using public lists of industry fair exhibitors and such, and then researching/guessing personal email addresses.
- In every email, I will offer the recipient something that will promote their business for free and at the same time shows our agency's skills and expertise in the field. I have already tested this offer on some sample prospects, and it has been well received (most people were interested and took up the offer, and it was a good conversation starter).
- In addition, to increase the proportion of recurring revenue clients, I will contact old clients, ask about their business and suggest ways to continue working together to benefit their businesses even more.
I'll add to this over the next days and weeks.
(EDIT:
Here's the backstory.
)
Last edited: