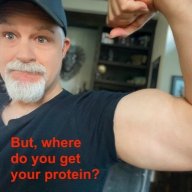 I followed the science; all I found was money.
Staff member
FASTLANE INSIDER
EPIC CONTRIBUTOR
Read Rat-Race Escape!
Read Fastlane!
Read Unscripted!
Summit Attendee
Speedway Pass
User Power
Value/Post Ratio
419%
Jul 23, 2007
35,857
150,222
I've been here for 15 years.
Over that time, I seen a bunch of "get rich" trends come and go.
These flavors are hot for a few years, then disappear.
Each time, some threads blow up with folks who are starry-eyed about how wealthy they're going to get as they do nothing but hop aboard a trend and "HOPE" and "WAIT".
And then like clockwork, reality hits.
Their ideas of "getting rich" investing in some meme or crypto stocks goes bust. They don't get rich and they have to start over. Worse, they wasted YEARS of their life "waiting, investing" or whatever. During that time,
they gained ZERO practical business experience.
As crypto shits the toilet, as stocks shit the toilet, as the economy shits the toilet, as inflation skyrockets,
what remains as the only true method of obtaining sustainable, controllable wealth?
A FASTLANE BUSINESS.
Let's be clear: A Fastlane business
IS
, and
WILL REMAIN
, your best bet at acquiring sustainable wealth fast, and asymmetrically.
Not stocks.
Not cryptocurrency.
Not some hot bandwagon trend.
The only exception is if you SERVE these industries in a Fastlane Business, you know, the old "sell shovels in a gold rush."
I noticed in 2022 that a lot of the hype of crypto and stock trading talk
has dwindled to nothing.
Why?
Duh... people are losing money hand over fist.
People are discovering they HAVE ZERO control over the economy, crypto exchanges, central bank decisions, supply chain bottlenecks, and other BS.
When your wealth acceleration vehicle cannot be controlled, you're not an
entrepreneur
, you're an
investor
and
speculator
.
FACT: Your best bet for wealth acceleration will always come from your Fastlane,
CENTS
based business. Not from stocks, not from cyrpto, not from day-trading Gamestop, and not from anything hyped in the retail mainstream.
Sad that millions of people will soon discover that they put all their eggs in the WRONG basket.
Yes, stocks will recover. Crypto likely will survive. But the point is,
why have you not TAKEN CONTROL OVER YOUR FINANCIAL LIFE?

You don't have play these games.
Focus on a business and grow your way into the 1%.
Leave the rest of the hype for the 99%.