There have been a lot of dopamine/habits threads lately.
I think there are quite a few of us who are dealing with bad habits and unwanted addictions.
This will be a little thread series of one-month challenges to improve yourself in some small way.
Maybe we can go over a month but let's see how it goes for now.
Rules:
1) If you feel like this is an area you could be doing better in - jump in the thread and try to make some changes.
2)- If you feel like this isn't an issue for you - then refrain from posting "debate" type content that doesn't help those with an issue.
Take that somewhere else.
First up - phone addiction.
This is my phone as of today - a LOT of phone usage.
I could use the excuse that I run a very active online business as an excuse but that doesn't change the damage I will do longterm.
Currently, I use my phone to...
- Manage and moderate a 12k FB group, 2 student groups, and a Biz YT channel
- Contact friends and family
- Post and browse on this forum
- Emails
- Social media (100% non-business)
- Random internet scrolling
I already have an adult content blocker on my phone so there is "funny stuff" going on ha. I set it up when I got the phone and forgot the pin - I have been too lazy to restore my whole phone to remove it. It is never an issue except for some forum threads with phrases that block the thread (if someone swears for example).
Today I installed "checky" to see how many times a day I check my phone...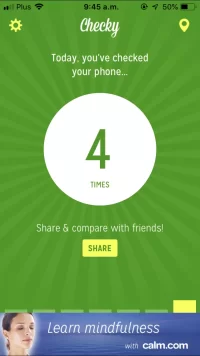 I just installed this so I will have to wait a few days to report back what the results are. I am guessing in the 100s.
Challenge goals:
- Get phone usage to less than an hour a day, less than 50 phone checks (turning your phone on)
My plan is to do this by creating new systems and disputing current habits.
I will track what is working and what is not on this thread and after a month we can compare.
If you want to join...
- turn on "phone usage time" and also get an app to check phone opens (I think "checky" is best).
- post up your starting stats here after a full day of usage
- start making changes. Even having the awareness of the issue and the commitment to post will be a big start.
Who is in?
*If this series goes well I think we can do more on habits like saving, eating, sleep, reading and addictions like porn, drinking, smoking weed, porn etc.
Don't like ads? Remove them while supporting the forum. Subscribe.