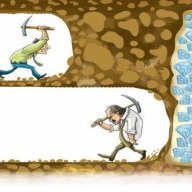 Never give up
FASTLANE INSIDER
EPIC CONTRIBUTOR
Read Fastlane!
Read Unscripted!
Speedway Pass
User Power
Value/Post Ratio
463%
May 1, 2011
7,154
33,089
The 80/20 principle, also known as the Pareto principle or the 80/20 rule, states that 80% of the effects come from 20% of the causes. The rule applies to many aspects of life, including economics, business, sports, etc. For a quick overview, read Wikipedia's page on it:
Pareto principle - Wikipedia
I started this thread to share useful resources about this principle to help you accomplish your
goals
more easily - or just enjoy your life more - thanks to simplifying it via the 80/20 rule.
This isn't just a little stupid rule stating the obvious fact - there are countless, sometimes weird, applications of it that can help achieve better results in less time and with less energy.
1. Books
By far the best author on the topic is British multimillionaire Richard Koch. He has written several books on the topic. The best ones are:
The 80/20 Principle
- the original book, with the first part going deep into how to apply it in business and then other parts addressing personal life and other things. Ignore the negative reviews - there's a lot of thought-provoking, and for some probably controversial, stuff in there.
Living the 80/20 Way
- offers additional insights on how to apply the principle to live better.
After Richard Koch, the best books are:
80/20 Sales and Marketing by Perry Marshall
- some very powerful 80/20 concepts applied to sales and marketing. A must-read.
Essentialism by Greg McKeown
- I consider Richard's books better because they're written in a less philosophical and more practical style. Greg's book is still pretty good, but IMO it's better to start with Koch.
The One Thing by Gary Keller
- extremely solid concept of The One Thing, but with some unnecessary chapters which are related to the main topic, but not really talk about simplicity.
2. Articles
Richard Koch's blog is really good, though sometimes he gets too philosophical there:
Blog
Some of his best articles:
HOW TO WORK LESS AND MAKE MORE
ARE YOU A HAMSTER?
HOW TO STOP BEING A HAMSTER
TIME REVOLUTION
http://richardkoch.net/2013/01/how-much-is-an-hour-of-your-time-worth/
http://richardkoch.net/2014/09/how-to-do-nothing-achieve-everything/
http://richardkoch.net/2018/11/liberate-yourself-from-the-protestant-work-ethic/
A good interview with Richard:
https://medium.com/learning-for-life/dont-waste-your-time-on-the-trivial-1a51c7dc3cc
3. Quotes
Here are some various thought-provoking quotes:
"We should act less. Action drives out thought. It is because we have so much time that we squander it." – Richard Koch
"Slow down and remember this: Most things make no difference. Being busy is a form of laziness—lazy thinking and indiscriminate action." – Tim Ferriss
"Most people who become rich through business do so by using other people's ideas, not their own." – Richard Koch
"Identify the times you are most happy, and expand them as much as possible. Identify the times you are least happy, and reduce them as much as possible." – Richard Koch
"Generally, the most profitable customers have been customers for a long time. Gaining new customers is very expensive." – Richard Koch
"Make the most of those few 'lucky streaks' in our life where we are at our creative peak and the stars line up to guarantee success." – Richard Koch
"Time is like that: cussed when we try to speed up, a dear friend when we slow down." – Richard Koch
4. Exercises
Some exercises I regularly do, particularly when I find myself losing focus and no longer religiously following the 80/20 principle in my life. It's important to emphasize that 80/20 is a mindset that needs to be cultivated, just like you need to go to the gym regularly if you want to stay in shape.
80/20 analysis - analyze what produces best results and what the biggest waste of resources is. How can you double down on what works best and eliminate the unessential stuff?
The One Thing question - ask yourself the main question from Gary Keller's book: What's the ONE Thing you can do such that by doing it everything else will be easier or unnecessary?

Eliminate something from your life - it sounds stupid, but even throwing away an article of clothing you no longer wear is a good way to remind yourself to focus on what's most important.
Fast for a full day - it's good for your health, and it gives you some additional clarity and a lot of time to think how to simplify your life.
Stop taking action - if possible, take a few days off and occupy your mind with something else. Sometimes we're too close to the challenges we're facing and we fail to see an obvious, simple solution. Your subconscious will still work on the problem in the background while you do something else, ideally something enjoyable so you can recharge.
Let go of control and ego - the number one obstacle preventing you from achieving more while doing less is yourself. If you want to control everything, you'll never be able to delegate effectively. If you think that you're the only person who can do something well, you'll never delegate at all - so you'll be stuck doing everything yourself. Even if you're a solopreneur and nobody can do your job, at least simplify other aspects of your life (for example, hire a maid).
Think of long-term profitability - focus on projects and business models that are repeatable and produce consistent, long-term income over projects that produce a one-off result. The latter makes you a hamster, stuck on the wheel of work and unable to slow down because you always need to seek a new source of income. Always have in mind your hourly rate and resist the temptation to think short-term. For example, you can spend 100 hours on a project that generates $10,000 once (your hourly rate is $100), or you can spend 100 hours on a project that generates $1000 a month forever (your hourly rate is just $10 the first month, but after 10 months reaches $100 and then still continues growing without any additional work).
Destroy and rebuild everything from the ground up (in your mind) - if you lost everything you have now, how would you rebuild it? This is an useful exercise to review the most important fundamentals as well as open yourself to new ideas or maybe even discover that what you're doing now is just no longer working anymore and you're stuck in the past. It's often hard to see these obvious things due to the status quo bias (in which any change from the baseline is considered a loss).