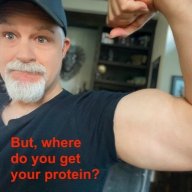 I followed the science; all I found was money.
Staff member
FASTLANE INSIDER
EPIC CONTRIBUTOR
Read Rat-Race Escape!
Read Fastlane!
Read Unscripted!
Summit Attendee
Speedway Pass
User Power
Value/Post Ratio
441%
Jul 23, 2007
37,503
165,529
In the spirit of the lengthy sister post of WHAT IS THE BEST VALUE...
NOTABLE! - What is the BEST "value" you ever paid for?
WHAT IS SOME OF THE WORST VALUE YOU EVER PAID FOR?
I'll start...
A couple of weeks ago I went to Picazzo's, a specialty pizza joint...
http://www.picazzos.com/
Ordered a couple of specialty pizzas.
Ordered no alcohol. No appetizers.
The bill, with tip, was close to $100.
For freaking pizza.
And it was just OK.
This is not to impugn their food-- it's usually really good.
But $100 for pizza is a reach.
Afterward I was like, "Woah, what just happened?" LOL.