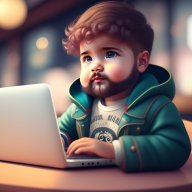 User Power
Value/Post Ratio
93%
Feb 4, 2022
14
13
I don't know who I am, help me . I don't have any story to tell anyone.
I'm 21, and I'm planning to go into business, but everybody I'm seeing is selling based on their personal story.
"My life was like...then I created this product...and wham...problem solved".
MJ even mentioned something like having a story behind your brand in
TMF
. (I've read the book).
The thing is I don't have any story to sell to anybody. I'm not even successful to have any tangible one.
All the Sales book I've been reading lately are based on a trend: Tell your story. Story Brand. Brand Storytelling....
The trend is let people know the face behind the brand. Tell them about your personal life, and how it relates to the product, and they'll buy like crazy.
But I don't have any f**king story to tell, other than I want to create a valuable product that people need (fastlane product).
Do I make up stories...or what?
I'm I missing something?
Please how do I get people to buy my product without telling stories – cause I don't have any. Is there another way to sell without telling people about your past, present, and future?
Sorry if I sound dumb. Forgive me.
I'm open for learning, criticism, roasting, and advice.
Thank you, Everyone.