Hey guys,
Just want to thank MJ his booked saved my life from living corporate hell. Also, thank you to all of you bros, I've lurked here and you've helped me out a ton!
Two and a half years ago I started fixing up and selling old record players on craigslist. Each one I tried to out do myself and I began to notice that people were legitimately responding to them. I learned more and more and figured out everything about old record consoles and began installing high-end audio in them.
Fast forward to last month. Out of the spur of the moment I decide to DM Jesse James on Instagram. Initially he just responded "Awesome". Then a week later he sends me message that he wants one for his master bedroom!! HOLY SHIT my childhood hero, the craftsman of our time WANTS SOMETHING FROM ME!!
Yesterday, I ended up delivering a cherry 1960's Telefunken to him. It was like being in a dream, so surreal, as I stood outside his shop where he hauled a$$ up to meet me in his H1 hummer. He was so cool gave me a bunch of business advice, his phone number, told me I could use his shop, and is going to plug me across his social media of 8M. I'm still in shock.
Hang in there guys you never know when that big break is just around the corner! I quit my cubicle job as a financial analyst 5 months ago after reading
Unscripted
, it totally changed my mind and this could have never happened if I wouldn't have had the courage to do it!! I never thought in a million years this could happen!
instagram: ATX record players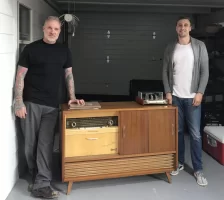 Last edited: