It's 0:34. Something totally unexpected happened today. Just before shooting Youtube pre-roll ad, I felt completely frozen and and unhappy. Not sure if it was due to watching ludicrous amount of advertising. That helped for inspiration for sure, but there was something else. I just could not resist the fact that... my course sucked. Not the content thought. But the design. I packed my stuff together and after deep diving into the problematic I was kept the last 6 hours coding frantically a new design of its pages.
Yep, another online-course thread, free continuation of my
previous
thread.

I am afraid of red flags or coming off as "created from the couch" kind of scam.

Your feedback will help me massively to create a course that I can be truly proud of, not just a money machine.

PS: The videos are finished, and so is the website. I am rather looking for ways to promote it so people get interested and buy.

What do you think of the dark-red color palette?
How is the layout?
What is your general "feel" - would you put $197 into learning strategic goal-setting for this Academy Training?
In short, I am teaching people Strategic Planning. How to set long-term, mid-term and short-term goals. I strongly believe in the value offered and was studying the problematic since 2016.
Please let me know what you think of the design inside. I took an existing WordPress theme + LearnPress plugin but done much of the coding myself.
Price for the course (yet to be established):
$47 - 197
Sales Funnel
1) Landing Page (Just updated 5th Februray)
Note: This is only an excerpt, full landing page test render is available at The Ultimate Planning Base – Matej Peco | Member.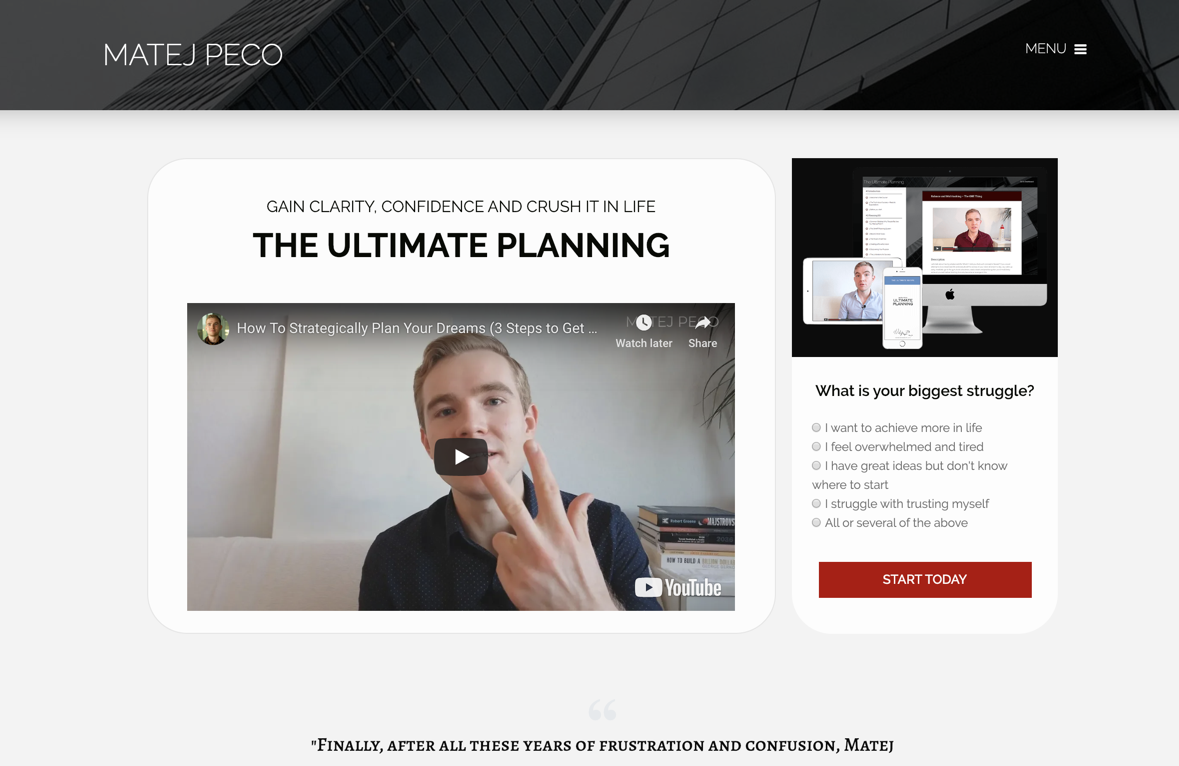 2) Sign-Up Page (100% finished, open to feedback)
3) Checkout Page (100% finished, maybe change colors to match Inside Course page?)

Members' Section
1) Main Members Page (pretty much finished, just need some life to it)

2) Inside Course - Design finished by 90%, I will code comments, survey and review system shortly
I am most proud of this design, feeling blinded by pride, appreciate raw feedback!

If you can't see the gif, click here: https://i.imgur.com/BfcEcUB.gif
Thank you so much!
-Top
Last edited: