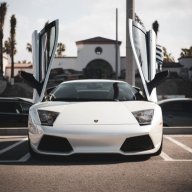 Does it Cash Flow?
FASTLANE INSIDER
Read Fastlane!
Speedway Pass
User Power
Value/Post Ratio
931%
Jun 7, 2008
472
4,396
Thank you all so much for the kind words and some laughs! You guys are the best
Congrats man! When did you determine the time was right to buy the lambo?
@Envision
I knew it was the right time when the monthly payment wouldn't alter my investment ability
at all
. It is also the right time knowing that I could own it for 1-2 years and still likely break even when selling it (aside from any maintenance/interest pmt).
Damn! FN Congrats man!! Marked NOTABLE for accomplishing a big

goal

!

I owned my first Lambo for a couple of years and the NET loss on the buy to sell was only like $8,000. Of course there is maintenance and stuff, but damn, sometimes you have to look at these things from start to finish... not what it costs initially.
@MJ DeMarco
- So true, MJ! Just like in
real estate
(or business acquisition)... with used cars - you "make your money" (or protect your downside) when you
buy
; not when you sell!
Thank you for the NOTABLE nod my friend!
Well done

@G_Alexander

Its epic. One of my favorite threads on the forum.
@Fox
Thanks buddy, hope everything is well with you =)