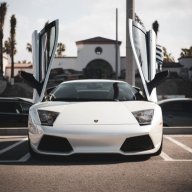 Does it Cash Flow?
FASTLANE INSIDER
Read Fastlane!
Speedway Pass
9 and 1/2 years ago, when I was just 18 years old, I hit the
"join"
button on a forum that would forever change my life. I was already an entrepreneur at heart - and had tried a few things - but I had now found a like-minded group to share ideas and thoughts with. This catalyst was the equivalent of adding
rocket
fuel
to my entrepreneurial gas tank. While I had to put in thousands (and thousands) of hours of work + critical thinking and trial and error - there is no doubt in my mind that this journey was sped up by a few years thanks to
@MJ DeMarco
(and others thanked in numerous other threads of mine).
What will
9 years
get you on this forum? A gated 6-speed Lamborghini Gallardo (if that floats your boat).
More
importantly
it will get you a
new line of thinking
(
UNSCRIPTED
),
an appreciation of your most valuable asset (
TIME
), and the ability to appreciate
FAILURE
.
I'm nervous even posting about this, because it feels a bit unreal to me. Truly, I keep telling my friends who know about it that it "doesn't feel real" or "doesn't feel like it's mine yet". But this past Saturday I bought her and drove her 700 miles home (
with my girlfriend of 11 years, who has been here this whole journey
) back to Chicago. Had about 300 pictures taken by strangers along the way haha.
If you asked 18 year old me what my goals were, I would have said "7,000SF house, multiple Lamborghinis, Own a Sports Team, etc.)... but as I have conquered larger obstacles and "grown up" a bit... my goals shifted. I still plan on owning multiple Lambos (I love everything about them, the artwork of the design, the engineering and power, the sound, the drama, etc.)... but getting this car was an important reminder to me that
success is not a destination
. It is a way of life (for me, having my
TIME
to myself).
If success were a destination, then that destination would forever elude you (i.e. you get to $10M in networth, you want $50M next...etc. etc.)... In that scenario you are never truly happy. I think coming to know that the ride is what is important is such an overused but
MEGA
important reminder. Owning this car is a reminder that I need to enjoy the ride and not hoard every available line of credit/dollar for business deals only. And, at the end of the day I got this particular Lambo because I believe I can drive it for 1-2 years and not lose money on it (barring any acts of God) - which is exactly what I did with my 911 Turbo (sold for $1,000 more than I paid for it originally, after 8,000 miles of enjoyment).
My favorite things on this journey (aside from the new friends I have made along the way) has been tackling challenges I set for myself, helping my employees grow (who are now like my family), and becoming a better human being through personal development.
Make it your mission to serve others (employees, customers, etc.) and your success will be a bi-product.
That is my new goal in life. I'm sure it will lead to more Lambos
Cheers to the first (of hopefully many)!
Get started today guys. Have no fear. Just take calculated chances.
Alex