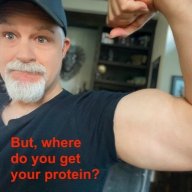 I followed the science; all I found was money.
Staff member
FASTLANE INSIDER
EPIC CONTRIBUTOR
Read Rat-Race Escape!
Read Fastlane!
Read Unscripted!
Summit Attendee
Speedway Pass
User Power
Value/Post Ratio
418%
Jul 23, 2007
35,898
150,193
I pulled this out of an old thread dozens of pages long and I thought it worth a thread.

As I mentioned many times, I'm an introvert. As such, I don't enjoy being at the center of attention. I don't like public speaking. I hate going on podcasts. I hate doing YouTube videos. I hate interviews. I prefer written word over spoken.

That said, these personality traits have the potentially disastrous effect of putting myself into a self-imposed BOX. The BOX then serves as a hindrance, an excuse not to test your comfort zones and conquer fears. The box stops me from doing what needs to be done. The box stops me from improving, growing, and minimizing a fear.

But I don't let the BOX define me. I do podcasts because my purpose is greater than my fear. My purpose acts like a sharp knife capable of tearing down the BOX.

Fixed mindset types live in a prison of BOXES. My personality type is X,Y, or Z so I won't do A, B, or C. Then they get stuck in a rut — never growing, never evolving and always doing the same things over and over, while expecting different results. Boxes serve one purpose— to contain and limit. When you put yourself in a box, you contain and limit your growth. Period.

Here are just some boxes I've personally heard over the last year...

Box: I'm not a person who reads books.
Box: I'm not a public speaker.
Box: I'm not a person who plays board games.
Box: I'm not someone who likes going to the gym.
Box: I'm not X, Y, or Z because of A, B, or C.
Box: I'm not good at X (of course your aren't, you never tried, and never worked hard at it)
Box: I'm not a good people person.
Box: I'm not a good writer.
Box: I'm not an entrepreneur.
Box: I'm not a good saver.
Box: I'm not a good leader.

And do you want to know the strongest, most powerful BOX of all?

It is one that not made of cardboard or steel, but of velvet...

It is comfort.

If you want to radically change your life NEXT YEAR, start observing the BOXES you've erected around yourself. Then start to poke, prod, and question them. What is that box doing to your life? Is it preserving the king BOX of all of 'em, comfort? Ultimately, BOXES are weak excuses that preserve the primary box, the BOX of COMFORT.

You can evolve into whomever you want with the right effort, self-awareness, discipline, and purpose.

What BOX are you stuck in?

PS: A good book on this topic is Personality Isn't Permanent by B. Hardy.