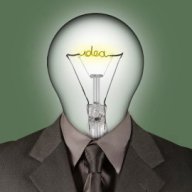 80% of small businesses fail. So start a big one.
FASTLANE INSIDER
EPIC CONTRIBUTOR
Read Fastlane!
Read Unscripted!
Summit Attendee
Speedway Pass
First off, the summit speakers were amazing. All did a great job (yes, I mean all.) They were so inspiring in fact, that I've heard/read it 5 or 6 times now:
"I want to speak at next year's summit"
"Maybe I can talk about XYZ at next year's summit"
"I don't want to just go to next year's summit, I want to speak."
And if 5 or 6 people have expressed it, then more are likely thinking it.
So my first question is, "Why?"
Why do you want to speak? Do you have something to say? Are you just getting swept up in the emotion of the moment? Did
@Mutant
convince you that it is an excellent networking opportunity? She was quite convincing...
Or is there some measure of validation you are seeking? So is it about you? It's not an ego thing, is it?
No, of course not! You want to bring the value.
You want to
help people
.
Am I right? So my next question is, "Why wait?"
If you have something to say, post up. Drop some knowledge bombs. Why wait a whole year?
"Well, I want to build enough experience this coming year so that next year I can present something awesome." Great. My friend, you sound like a perfect candidate for a progress thread.
Still don't feel like you are "thread starter" material? That's cool. So bring the value by helping others on here. Be a cheerleader. Be a connector. Be a resource.
Bring so much value in the coming year that next year when
@MJ DeMarco
puts out the call for speakers, people are asking you to speak. That's bringing the value my friends. This community is what you make it.