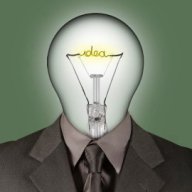 Heavy Industry helped me achieve overnight results
FASTLANE INSIDER
EPIC CONTRIBUTOR
Read Fastlane!
Read Unscripted!
Summit Attendee
Speedway Pass
User Power
Value/Post Ratio
382%
Oct 7, 2019
2,336
8,914
Edit: I've changed the title to better reflect the evolving nature of this thread.
Over the last several years I've been fortunate enough to become a "go to" marketer for builders with
real estate
projects coming out of the ground in the Phoenix area. I've helped 7 communities sell out, 2 more are on the verge, and I am currently marketing 5 other projects, including my first two new build for rent communities.
It is an interesting niche because when we're successful and the project gets sold out, often clients will be get out of the business. They move onto other enterprises or go on hiatus to start searching for the next project.
My core service is search engine marketing. For most of these projects I'm the lead digital marketer, and I'm usually part of a team. There's usually a Facebook/social person and maybe a PR person, and the lead salesperson on the team.
I'm usually the one watching the analytics/stats closest, so I see the effects of all the marketing channels. For a couple of projects, I was the sole digital marketer.
For the sake of context, I've done a high rise condo project downtown, a couple luxury condos projects, and an affordable condo project, also downtown. I've done golf course homes, affordable homes, luxury homes. I've done 1 bedroom condos and 5 bedroom floors plans. The smallest community was 20 homes. The condos are mostly in the central parts of the Valley, the home projects tend to be to the outskirts.
I think many of these lessons apply to other businesses, so hopefully this helps you.
People Do Business With People
Maybe in other cities things are different, but I doubt it.
Real estate
keeps pushing for higher tech solutions, but ultimately these "solutions" should be viewed as communication tools. Their purpose should be to connect people with people.
I want to stress, people are not data points.
If you are building communities, your sales will come through your agent(s). As a marketer my job is to keep those people fed with leads. The good ones build and nurture the lead into a relationship and then a sale. If your salespeople suck, your sales will suck.
I know this isn't some big insight, but people get hired for all kinds of reasons and sometimes the decision makers don't realize that a salesperson is a problem. Because I pay close attention to marketing results, I'm usually the one who figures it out.
I could probably write a separate post of all the mistakes I've heard a sales agents make on the phone, but here are the top 3:
Not collecting name and contact info
Politician speak… where someone asks a question and the agent wants to avoid answering it. So they say a lot about another topic then act like the question has been answered. Often this happens because someone is covering for the fact that they don't know the answer and are embarrassed to admit it. Occasionally this happens because the agent is "covering up" some fact they feel is embarrassing. Either way, it is a teaching opportunity.
Not asking enough qualifying questions. When are you looking to move? What is your budget range? How many people will live in the home? That kind of thing. There are books written on the subject, I won't go in depth here.
I uncover these training opportunities because I actually listen to many of the calls our marketing efforts generate. Which brings me to...
Track As Much As Possible
Nobody has an unlimited budget. Nobody wants to waste money. It is imperative to stretch every dollar of the budget as much as possible. But you won't know what is working if you don't track it, right?
So we use callrail.com for our call tracking and call recording, integrated with Google Analytics. (We report first time callers to Analytics to best reflect actual results generated)
We'll also use a call tracking number for our TV ads, TV spots, Postcards/Direct Mail pieces, Billboards, Street signs, Digital ads when possible. Pretty much everywhere except a directory or a Google/Bing/Apple/Mapquest map listing.
We'll also use tracking domains to track our offline effort. We forward them to URL's with UTM parameters. Sorry for the tech babble, let me see if I can explain it simply.
Let's say we've got a billboard to promote the forum. So we set up something like
www.fastlanefreedom.com
and set it to redirect to
www.thefastlaneforum.com/community/?utm_source=billboard&utm_medium=offline&utm_campaign=3rdAve
In this case, a billboard on 3rd Ave will say visit fastlanefreedom.com and when they type that in they'll come to this forum, but analytics will track that they saw the 3rd Ave Billboard.
You can use the same tactic for your street signs, your postcards, etc. We use this free Google tool to set up those UTM values -
Campaign URL Builder — Google Analytics Demos & Tools
We also use appropriate tracking pixels for social ads, programmatic ads, etc. And to track the effects of press or other difficult to track marketing mediums, I will dig into the search volume to see what kind of lift we received in the days that follow a new marketing article. We promote our actual domain in press, for
SEO
reasons.
Lastly, we trained staff to ask clients how they heard about us. Some of that data is reliable "I drove by" or "so and so told me" and some is not "I saw you online".
The truth is, there is no perfect tracking solution. There is always stuff that will slip through the cracks. In the end, we do the best we can and this kind of set up gives us more than enough data to make educated choices about our marketing efforts.
Time Your Budget
Most business have a fairly level monthly marketing budget. Some might adjust for seasonality. Builders are a little different. There are a few moments in a building's lifespan that deserve additional resources.
First, at groundbreaking you have a little PR push. Then, once you have an actual model to show, you should increase the spend. It takes some skill to close sales pre-model because you are basically selling a dream. Once you have a model, things become "easier".
Then at the end, there needs to be a final push because closing out a building is probably the hardest part of the process. At the end, the last thing you want to do is drop the price of the final units or homes because that sets the value for the people who bought in early. There is a very interesting dance that takes place there where you will pay full price, but you'll probably be able to negotiate some nice upgrades if you see a final unit(s) lingering on the market.
Cheap, Effective, Often Overlooked Marketing
"Everybody" wants to go digital. And I'm glad, because it means I get work. But you know what is the cheapest and probably the best form of advertising for a new build community?
A sign in front of your project.
It's so simple, but especially when you haven't even built a model home yet, it is necessary to have info out there letting people know how to get in touch with you. It's so basic yet it is occasionally overlooked by a builder. Most people moving to the neighborhood drive around the neighborhood. Give those eyeballs something to see. Direct them where to go to get more info.
Many times I'll see a phone call come in from Google Organic and I'll hope its a result of the
SEO
, but I'll listen to the call and they were just driving by...
And on that note, a lot of people like getting fancy automated phone systems. Automated phone systems that I've seen often lower overall conversion rates. People just hang up. So to be effective, have someone ready to answer the phone when a call comes in. Remember point #1.
Effective Marketing, Honorable Mention
Email follow up. Staying top of mind and showing you want their business without being annoying is an art and I don't want to share any secrets here. The money is in the list. The list you develop and grow. The only reason I can't call this the best form of marketing is because it costs money to build the list. I will say you should segment your email list. For example you don't send the same info to buyers as you do to
real estate
agents.
My Favorite Marketing Channel
Press. It boosts
SEO
rankings like nothing else. It increases brand searches. It generates higher conversion rates (granted over a brief period of time) then the other channels. And putting the "As seen in" logos on a site boosts the effectiveness of almost every other marketing channel.
According to my data, press isn't dead. And yes, people actually still read.
Least Effective Marketing Channel
Print ads. Earned press is great. Print ads are almost useless. Factor in the cost, and they are so many better ways to spend a marketing dollar.
Second Least Effective Marketing Channel
Programmatic advertising. This has been everybody's favorite darling for a few years now. There are many versions of this, Geo fencing is a popular one. I could rant, because clients love the new shiny toy and this one always sounds to good to be true, but since it's tech, they assume it is true. But if you actually listen to the calls that this marketing channel generates, it is rarely an interested buyer. Plus I suspect the clicks are often faked. I have yet to see an effective programmatic marketing campaign.
Again, there are better ways to spend a marketing dollar.
Social Or Search? Which Is Better?
Both. Neither. It depends...
They work together. One reinforces the other. Social creates brand awareness and can at times create demand for your product, while search harvests existing demand. Know your market and use them appropriately.
On Websites, The More Conversion Points, The Better
This is generally true, but there is such a thing as too much. But let's back up. What's a conversion point? Different marketers define this differently. I track interactions with a potential customer.
So, a phone call is the highest value. Place your phone number in logical places. Don't make someone hunt for it. Have it in your header, have it in your footer, and place it in the body text next to a call to action.
Next have a form on every page. For the people who don't want to call or can't call, don't make them hunt for your contact us page. Because they won't. I'll typically put the form just above the footer of a website, but that isn't always the best solution.
The Double Power Of A Chat
Above is the bare minimum for conversion points. But if we have the manpower, I always push for a chat on the site. And I set the chat up to auto greet every visitor. Why?
I have found that 97% of visitors close that chat. Clients often think it is pointless, or worse, annoying.
But in my experience, that 97% of people is 30% more likely to convert to a call or fill out the form. It is the same reason you get greeted when you enter a store. Studies show you are now likely to buy.
Plus, the other 3% of people who actually do chat are often leads. Often these are people who would not have reached out just then, so chat has two increasing effects on conversion rates. Again, remember point 1. If you have a skilled agent in the chat, it is a gold mine.
In case you are wondering, I have yet to see a chat bot come anywhere close to bring worthwhile. The auto greet is the only bit of automation we use.
There Is No Magic Bullet. There Are No Absolute Rules. Test Everything.
If you are looking for me to tell you how to position your project, I can't. Yet. Every marketing plan starts with researched assumptions, but we let the data guide us to improved effectiveness.
For example, I can tell you
Twitter
sucks. Except for when it doesn't. Like reaching out to media members. But that's not the only way it helps. And you won't know when or how to use it until you test it out.
And just so we're clear, even though I am usually dealing with decent sized marketing budgets, I often run $5 or $10/day campaigns to test various ideas.
I already mentioned the best placement of a form varies across sites. It is usually best in the footer, but not always. Test it in a sidebar. Test it just under the header. Find out what works best for your customers.
Here's another fun thing I've learned from testing. Don't use exclamation points when marketing to affluent people. I have theories why tests turn out the way they do, but it's just an opinion. At the end of the day, the data has shown me several times that people with money are averse to !
When I've weighed the benefit of sliders or videos or virtual tour compared to just having a page load fast with simple text and nice images, the fast site usually wins. But not always, so test it.
Here's a fun test I do sometimes. Instead of paying to sponsor a site or do direct banner ads, if the site runs AdSense, use a Google display campaign on just that site. You'll find it is often much cheaper than what the site wants for a banner ad campaign. Run it for a week and see what kind of results you get. You'll also see they are probably grossly over estimating how much traffic they actually get.
Any marketer worth their salt should run all kinds of tests. It's how we learn. It's how we improve.
The Value Of Crafting Tailored Messages
Landing pages will allow you to test messaging. And that is some of the most important tests you will run. If you have a high rise condo with prices ranging from $250k - $1M you can't expect the same sales copy to be most effective for everyone. So guide people to pages that speak to their needs.
Real estate
preaches location, location, location, right? I say dig deeper. What about the location specifically speaks to them? Are they close to work? Or close to fun? Easy freeway access? Far from the hustle and bustle? Safe neighborhood? Close to the airport? Or good schools?
Access to schools matters to most home buyers, it is almost a universal benefit, even to ones without kids. Mainly this is because of the impact on home values. But it doesn't matter to the golf course home buyer. So know what is important to your audience and craft messages tailored to them.
Speaking of messaging, have your calls to action make sense. There isn't a best CTA. Lazy marketers say Call Now or Call Today. And sometimes that is the best (but again, usually not if the demographic is affluent). I've found that phrases like Let's Chat, Want To Learn More?, Ready To Talk? are more effective when used appropriately. Let the data tell you when to hard sell vs when to soft sell.
Google Analytics Interests Data
Using this report is one of the better ways you can get to know your audience. Don't just look at the stock reports. Add secondary dimensions to the charts. It'll look like this...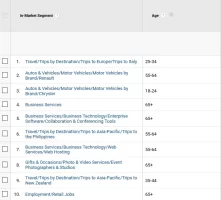 I once noticed an ad campaign where affluent single women ages 40-55 who are gamers were converting at a rate noticeably higher than the average. I know the ones who preferred shooter games converted the highest. Their affinity for gaming was never bought up, but we did highlight the high speed internet, the privacy, the security features of the building, the extra sound proofing in the walls, the closeness to the jazz bar and low key restaurants for a night out with the girls. I don't have the exact number, but I think over a quarter of our units went to that demographic in that building.
Not to beat the dead horse, but remember point #1. Your agents are a treasure trove of this kind of message tweaking. That's how we found out which features to emphasize. Ask your buyers why they bought. Use that info in further marketing and sales efforts. Keep testing.
I tried to replicate the success of that in the next similar project, and it failed spectacularly. Know your audience. Get in their heads. Dig into the data to craft your message. Don't assume because it worked once that it will again.
Cost Per Lead
So if you're doing the job right, success is lowering the cost per lead. On a limited budget (and what budget isn't limited?), you should devote the most money to the cheapest source of quality leads. Max that out, then focus on the next cheapest.
Keep a small percentage of the budget set aside to test other sources to see if they are more effective than your current efforts.
I can't tell you Google is better than Instagram or Facebook or Radio ads because it depends on where your clients are. I've even recommended to clients that they abandon search engine marketing (again, that is my core offering). But the data doesn't lie, so why would I?
If you are tracking results, then the cost per lead will guide you towards cutting the wasteful spend and devoting it towards higher value activities.
Random Thoughts
These are just some general thoughts, with little explanation given.
Don't pay to be on TV shows (like the morning home and garden shows)
I've never tested OTT ads
There is no magic color. Testing will reveal what colors work you.
The more expensive the home, the less mass market or blanket advertising will work.
Not everything has to look "sexy". Award winning design is not required to generate leads and sell homes
Facebook remarketing is better than others. But not everyone uses Facebook.
If your website asks people to share their location with you, a surprising number of them will. (Roughly 1 out of 5) You can use this in conjunction with direct mail efforts.
When in doubt, be clear, concise, and direct.
Read the chats. Listen to the calls. Learn about your customers needs and wants.
I prefer to not put prices on the site. I am often overruled in that decision, so I have little data to back it up, but I'd rather they get that info by talking to a sales agent.
Final Thought
In
real estate
we are governed by Fair Housing laws. So our hands are a little tied when it comes to targeting demographics. I can't do as much as I'd like to cut wasteful spending.
So I have to get creative sometimes. Like for example, everybody uses Chrome, right? Who uses the Edge? Older people. Maybe these are people who like golf, and maybe golf course homes. Or homes where they don't have to take care of a yard (condos). So for some of my clients I use this kind of information appropriately. But you probably don't have to go to such lengths to cut waste out of a budget. You can probably just stop advertising entirely to whole sections of the populace. So if we can get things dialed in enough to generate quality
real estate
leads for $30 even with this "handicap", most of you should be able to help your business grow for an affordable cost.
Last edited: