Know Thyself
FASTLANE INSIDER
Read Millionaire Fastlane
I've Read UNSCRIPTED
Summit Attendee
Speedway Pass
Oct 7, 2019
812
2,853
639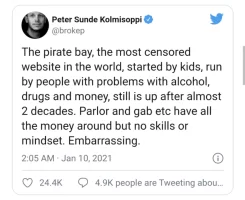 Think about that for a second, because to me it embodies the can do spirit of the entrepreneur, combined with a healthy dose of "who says I can't"?
The article is a quick read.
Pirate Bay Founder Thinks Parler's Inability to Stay Online Is 'Embarrassing' - VICE
Here's the highlight: "Over the years, Kolmisoppi and The Pirate Bay crew explored no limit of strategies to keep its servers operational and out of the reach of law enforcement and the entertainment industry, even when that meant hiding them
in caves
and
submarines
, or even using
low-orbit drones
to redirect users to hidden regional servers hosting torrent indexes and trackers."
Talk about creative problem solving...
Don't like ads? Remove them while supporting the forum. Subscribe.