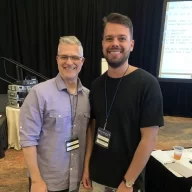 Platinum Contributor
FASTLANE INSIDER
Read Rat-Race Escape!
Read Fastlane!
Read Unscripted!
Summit Attendee
Speedway Pass
User Power
Value/Post Ratio
247%
Mar 8, 2014
1,572
3,875
Hormozi mentioned on

Twitter

that changing your phones colour scheme to grayscale makes it less addictive. He's right. You don't see the red of the notifications badge.

Reminds me of the old Nokia brick days. I miss that Snake game.
I've had mine like this for a while, I have No notification badges either because I changed all the icons to black using shortcuts.
I set the power button to change between greyscale and colour with a triple tap for when you need it to be in colour