Sweeping Shadows from Dreams
EPIC CONTRIBUTOR
FASTLANE INSIDER
Read Millionaire Fastlane
I've Read UNSCRIPTED
Speedway Pass
Jan 14, 2013
3,707
23,072
4,306
Earlier this year I bought a brand new $4,000 laser engraver. Then I started a laser engraving side hustle business. I did all of this without paying anything out of pocket. Here's how...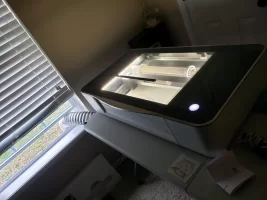 Step 1 - Choose a Laser (I chose Glowforge)

Step 2 - Get Financing (I used a USAA personal loan)

Step 3 - Order Laser

Step 4 - Learn the Fundamentals of Engraving (practice on free materials they send)

Step 5 - Find Niche Forums/FB Groups and create products they will love

Step 6 - Offer those people the product

Step 7 - Create a YouTube channel

Step 8 - Post some videos about laser engraving as a business (I have 10 I think)

Step 9 - Add laser affiliate link in video description

That's it. My whole process. My monthly laser payment is like $136 and I make anywhere from $120 to $600 in sales per month (I only have one product for sale and only listed on one private forum).
Each month I also make affiliate sales. Last month I made somewhere around $700 in affiliate sales through my YT link and this month I've earned at least $200 in affiliates. I haven't paid anything out of pocket for the laser and my affiliate link is only listed on YT.
I run this as a super low-maintenance side hustle for now. It's not a priority. This exact process could be repeated in the laser market, or with other maker market tools.
You can take this much much further than I've gone and you can do it without a website, without any experience, without a degree, and without any money.
K go do it. No excuses, thanks.
Last edited: