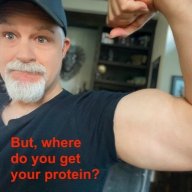 I followed the science; all I found was money.
Staff member
FASTLANE INSIDER
EPIC CONTRIBUTOR
Read Rat-Race Escape!
Read Fastlane!
Read Unscripted!
Summit Attendee
Speedway Pass
User Power
Value/Post Ratio
441%
Jul 23, 2007
37,435
165,084
Over the years I've read thousands of introductions here.
A common thread I'm seeing follows the following format:
A) I have 3 ideas, X,Y, and Z.
B) None of them meet
CENTS
.
C) X is missing entry, Y is missing scale, and Z is missing a mix of both.
D) I don't know what to do.
The end result is the person does NOTHING.
The problem with this mentality is that it causes you not to engage the market.
And market engagement (
CENTS
OR NOT!) is what causes you to personally grow, gain skills, and even uncover newer or better opportunities.
Just because something isn't initially
CENTS
, doesn't mean you should ignore it.
CENTS
can come into play after years of engagement, not in your first week.
Also, if you're just looking to scrub up some WINS and some small cash profits,
CENTS
is probably the last thing you should be looking at --- but just NEED.
Folks, don't complicate this.
CENTS
exists as a guiding framework for entrepreneurs who are looking to do things bigger than they've ever done. But if you've never done DONE before, I wouldn't let it stop you from starting.
Do something. Anything. Small wins, small profits. Take swings at the plate, learn how to make contact. Once you're ready to go into the deep end of the water,
CENTS
can be insurance policy that your
effort
pays life-changing wealth VS bill-paying profits.
TLDR; Don't let CENTS stop you from striking out into the world and grabbing your first small win.