When in doubt, dare.
Read Millionaire Fastlane
Speedway Pass
Would you choose this:
Or this? :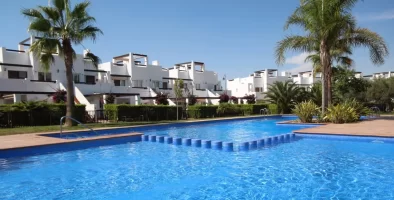 For years I've been dreaming of living in Spain.
In April my wife and I sold all our things to give it a shot for a couple of months.
We drove from Denmark to the Murcia region. Why the Murcia region? It has a lot of golf resorts with a lot of nice, available apartments and a bunch of swimming pools across the resort. It's mainly Dutch and British people who owns the apartments, and my guess is they only use it for a couple of weeks every year and rent it out the rest of the time.
We've just been using AirBnB to rent our apartments here, but if you plan to live here for at least a year, you can get a fully furnished two bedroom apartment with a rooftop terrace, free WiFi, free cable and a swimming pool just a few meters from your front door for
only €395/month.
We've been paying around €500-650/month, depending on the apartment. It was cheaper in May than in June and July with the high season around the corner.
We're living at the
Condado de Alhama Golf Resort
, but there a ton of golf resorts in the Murcia region you can choose between.
Here's how you actually get to live in an
€395/month luxury golf resort apartment
:
1. Start by checking the place out by booking a week or so in an AirBnB apartment. You don't want to sign a 12-month lease, if you don't like the place.
2. If you like it, visit one of the rental companies on the resort. There are around 1000 apartments here, so there are a couple of rental companies doing business here. Some of them are selling apartments, others are doing short term vacation rentals. But some are also doing long term rentals, and it's these companies you wanna talk to. I wrote to a couple of them to see, if it was possible to rent their apartments on a shorter lease, but they wouldn't accept less than a 12 month rental. If I should book a 12 month long term rental apartment, I would contact
this
company. You can see their rental properties on their website and the prices as well.
3. Enjoy your new sunny life.
If you're going to do this, I can really recommend this resort. Here some of the facilities located at the resort:
A 18 hole golf course
A Spar shop for food and beers
Restaurants
Bars
Bike rental
Gym
A bunch of swimming pools across the resort
2 tennis courts
Football pitch
Free parking at your apartment
Gated community with 24-hour security
And all the apartments pretty much include the same. It can vary wether the owner has installed a dishwasher, but every apartment we've stayed at least had a washing machine.
The apartments are usually equipped with:
Free WiFi
Free British cable
A small terrace outside your door
A rooftop terrace, if you get an first floor apartment. Ground floor apartments has a small garden
A dishwasher
A washing machine
Aircondition
Outdoor furniture
Close to communal pool
Free parking right beside the apartment
Towels and linen
Full kitchen
Oven
Microwave oven
Toaster
Kitchen equipment so you can cook dinner yourself
Big fridge and a freezer
Bathtub
This is what the €395/month apartment looks like: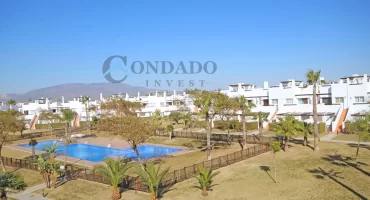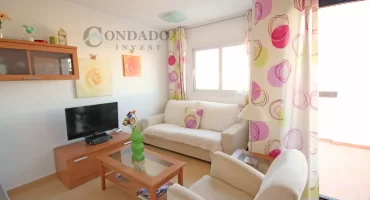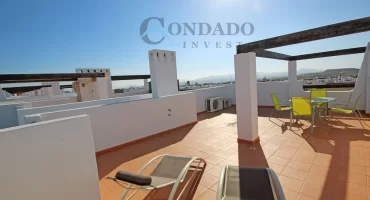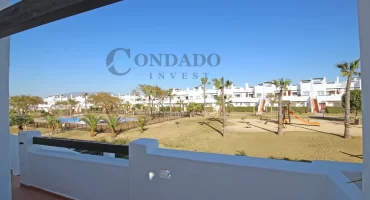 And you have a couple of mountains nearby which are perfect for hikers or cyclists.
If I should name some cons, it would be the need of a car. You don't NEED it to live here, but it will be way easier to experience Spain with a car here. You have around 10-15 km's to the nearest town. There are bus departures from the resort a couple of times every day to the cities nearby, but if you want to experience something else while staying here, a car would be great for you. If you just want to stay here, relax and enjoy the pool, you can get by with the shop and restaurants at the resort.
If you don't want to do a full year, rent an AirBnb apartment here instead for a few weeks or months. Try to avoid the high season (July and August) where the prices skyrocket. Booking a full year apartment, you can enjoy living here for €395 per month in the high season, where others have to pay €1,400-2,000 / month.
And with the free WiFi, it's just so easy to work here. No need for going to cafés or restaurants or use your cellphone data to get work done. Every apartment has a free 10 mbit connection. And the apartments are equipped with minium four beds, so it's even possible to bring your family. Oh, and there are around 18 km to the beach, which is close enough for me.
It doesn't have to be expensive or hard to move to a warmer and sunny country.
If you have any questions, feel free to ask. I will try to answer the best I can.