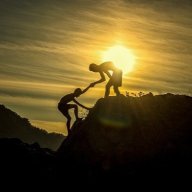 Bronze Contributor
Speedway Pass
User Power
Value/Post Ratio
226%
Oct 16, 2022
160
362
Hello,

It's me Monnfiii. Do you remember me?

I am back (temporarily, at least).

What's up?

Last time I was here, I was doing an internship and had just started a blog.

Since then, I have grown my blog from 0 to 14k viewers/month, grew my Medium income from $10/month to $1.2k/month, failed two companies, got a job in a startup, and now on my way to building a new company.

No, I am not rich at all - just on the way there.

I came here to brainstorm some ideas about networking.

Are there any threads already? I looked, but I couldn't find any.

IMO such an important and underrated topic that I'd love to start a megathread about it.