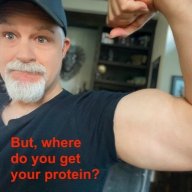 I followed the science; all I found was money.
Staff member
FASTLANE INSIDER
EPIC CONTRIBUTOR
Read Rat-Race Escape!
Read Fastlane!
Read Unscripted!
Summit Attendee
Speedway Pass
User Power
Value/Post Ratio
430%
Jul 23, 2007
36,329
156,277
The forum software is due to be updated and as I embark on this project (it can take some time) I'd like to hear if there are any features you'd like to see. Unfortunately, I won't be moving platforms so I do have some limitations on what can be done, and not done.

I also have access to developer who might be able to implement non-custom features.

Some things I've identified:

1) The search function sucks balls. This needs upgrading.
2) Content discovery is poor. There needs to be better categorization for content discovery, for example, if you want to find posts on YouTube or eCom.
3) Custom notifications on what you want notices on.
4) More options to ignore certain content.
5) Keyword notices: Get notified when keywords appear in posts.

Obviously I can listen to suggestions, but they are often dependent on the platform which the software uses, which as many of you know, I do not like.