Bronze Contributor
FASTLANE INSIDER
Read Fastlane!
Read Unscripted!
Speedway Pass
Want to CRUSH it selling B2B on LinkedIn?
I certainly do.
Right now LinkedIn is the single biggest opportunity for B2B sales.
What I'd like to share is a strategy I have developed recently whilst starting to build a brand new business from the ground up. It's still relatively early days, but so far this strategy has been producing contacts and opportunities beyond my wildest dreams.
The strategy that I am laying out below won't work for everyone. It is dependant on you having a good product/service that people actually want - and having some level of budget for acquiring new customers. Also - to be clear, I do not represent any of the products or services I mention below.
So - what is the strategy?
First, let me give you a bit of context. I am running a B2B service business in a very specific industry. Each client is worth a minimum of $30,000 per year. Even if I had to spend 10% of that to acquire the client, I'd be very happy (though I am not expecting to spend anywhere near that).
The strategy at a high level is simple. I want to get in front of as many of the decision makers as possible and stay in front of them. I want to be in a position where THEY approach ME to discuss working together, rather than the other way around.
So here goes.
1) Finding The Right People
The first step here is bringing in a stream of new, targeted leads on a daily basis. Top of the funnel shiz.
Let's use the example that we want to connect with owners of Accountancy firms in the US.
We'd do a search using the "All Filters" option to really dial it in: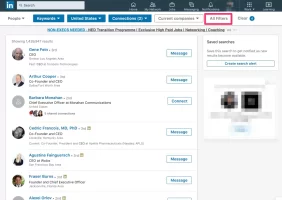 So, options I have on the filters are:
- 2nd & 3rd Connections Selected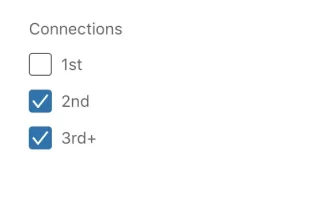 - USA Selected
- Accountancy Industry Selected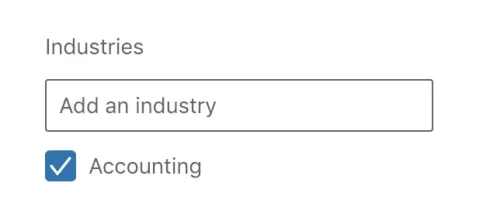 - Title Dialed In
You may have others but I generally search: owner OR CEO OR managing director OR founder OR co-founder
Once you do this you will see that LinkedIn comes up with almost 16,000 results. That'll keep you busy for a while
2) Connecting With The Right People

The next part of the strategy is about regularly connecting with these people. I aim to send anywhere from 50-100 connection requests per day.
I like to send a custom connection request that is as personal as possible. For my example it might be something like:
Hey NAME,

How's the weather today in CITY NAME?

I thought it would be worth us connecting as we are both working in the accounting world!

Speak soon,

Earl
Now, there are various options for doing this - here are the options available to you:
Do it yourself, manually, every day. Time-consuming, but free.
Hire an intern or a student to do this for you.
Hire a LinkedIn marketing firm to do this for you. I can recommend a couple.
Use a tool like Linked Helper. Though I believe this may be a little "grey-hat".
3) Video Message Those Who Connect
Ok, so this is where things start to get interesting. A certain percentage of these people, who are LITERALLY your target audience, are going to accept your connection request.
Our aim here is simple. We want to start a dialogue with these people AS WELL AS take a HUGE opportunity to stay in front of them for months to come.
Enter
DUBB
. This is an awesome video message platform that I fell in love with the moment I came across it.
What it allows you to do is quickly record a video message for someone, directly from your chrome browser (or even from a phone app).
But the KICKER here, is that you can embed PIXELS into the page that plays the video
Do you see what we are about to do here?
The next step is simple. When someone accepts your connection request, we are going to shoot a very short video with DUBB and sent it to them via LinkedIn. They will then click to watch the video, and be put onto your retargeting audience! Personally, I collect a retargeting audience primarily using the Facebook Pixel, but also LinkedIn pixel.
I would make the video message super soft and friendly. ACTUALLY take a look at their profile, take a look at their business, and give some useful thoughts. Don't try to sell at this stage, deliver value best you can, with no expecations.
4) Run Ads Against This Audience

Personally I primarily run Facebook ads, as I am extremely familiar with the platform. However, I reckon LinkedIn is a good bet too. I am playing with it at the moment and may have more insights as time goes by.
There are 3 kinds of ads I am running at the moment to my retargeting audience:
General promo videos - I am giving myself the goal of creating multiple promo videos throughout the year, plus creating multiple cuts of each one to split test.
Showcase videos & images - These will be ads that just showcase the work you are doing for other clients. I post these at LEAST weekly on social media anyway, so I run them to my retargeting audience too.
Mega value - I really subscribe to the idea of giving your best information away for free, and then having people pay for ACCESS to you. So, I think that creating this kind of content can really build you and your business as an authority and show that you absolutely know what you are doing.
Make sure you have got a good call to action on these - ESPECIALLY on #1, so that people can easily buy / get in touch / request a quote / whatever it might be.
5) Build Relationships & Nurture Them

It's all about relationships. Make sure you respond to LinkedIn messages quickly. You reply to comments on your ad. You answer people's questions. Nurture the relationships, bring value where you possibly can. People will like you, trust you, and buy from you.
In Conclusion

This method is bringing me some FANTASTIC opportunities right now. I expect to generate 6 or 7 figures in revenue this year using this as my primary method for finding new clients for my service business.
However, this is still early days with this technique. It's going to need refining, plus, frankly. I don't have all of the answers. I bet there are people reading this who have creative ideas to make this strategy even BETTER.
I am kind of excited to see if anyone here ends up trying this method. Perhaps you will have some feedback and ideas?
Can't wait to chat with you all and answer any questions you may have.
Praying this helps some folks here, as this forum has been such a huge source of inspiration and guidance for me over the years.