Hey guys, I got my board a little unorganized but I didn't really get it down the first time around.
Is there anything you guys see that I'm not setting up properly?
1st column is my inbox dumping grounds.
2nd is my projects which I may need to eliminate a lot and focus on 2-3.
3rd is my today to-do list (which can go over 3 things all the time and I don't really get them all completed)
5th is my overall goals (I wish I could hide this)
6th is my completed task.
Any help is appreciate. I will organize it better tonight and re-read the OP. I feel more organized in a sense but I'm still a paper guy. I am going to try to make it similar to MJ's goal setting cheat sheet.
Thanks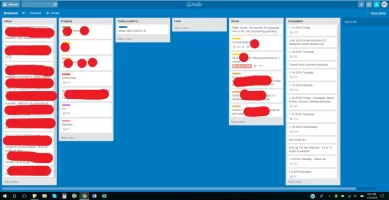 Don't like ads? Remove them while supporting the forum. Subscribe.