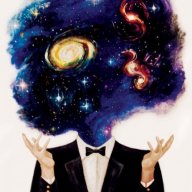 Silver Contributor
Read Fastlane!
Read Unscripted!
Speedway Pass
User Power
Value/Post Ratio
498%
Jun 4, 2018
133
662
24
*Not selling ANYTHING, just wanted to share my new To Do system (Which, believe it or not, you already have installed on your computer )*

"Success is simple. It's making a list, crossing everything off the list, and then making another list."
If you're anything like me, you spend HOURS a day on your computer, but you still struggle to direct all that energy and time onto what actually needs to be done. Nowadays, it is way too easy to pop open a new tab, and spend thousands of your life-rations
(Read unscripted again if this doesn't ring a bell!)
endlessly scrolling through Facebook and Instagram, or watching your favorite vlogger on youtube, and even this forum if you aren't directing that time towards a specific problem!
It happens to me all the time!
I don't even want to know the amount of time I've wasted mindlessly strolling through the internet, even when I know what I should be doing instead!
When it comes to what you should be doing instead, I know the importance of To-Do lists, trello cards, and productivity systems, but I could never seem to stick to any of them, and just kept jumping from one to the other, wasting even more time learning each latest software and building the lists.
Until I found this ridiculously simple method.

I'm going to use the
GSD method
as the example here, mostly because I LOVE it, and because I'm jealous that I can't use the name. I starting using this a little after I joined the forum, and it revolutionized the way I, well, get sh*t done. It was by far the best To Do list
system
I've used, and I've used
a lot.
The only issue?
You can escape it.
I constantly had to remind myself to load up the webpage that has Trello on it, and then reshuffle all my tasks to keep track. It was so out of the way that I eventually just stopped using it.
As soon as you can escape it, it is less effective.
Out of sight, out of mind.
I realized this, and tried to find a way to change it. Pinning it to cover half of my laptop screen, and a bunch of other stupid ideas.
Untill I found this.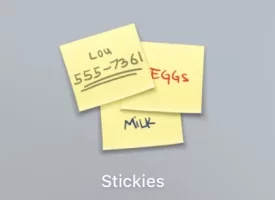 Stickies? Yeah. These things are a LIFE saver, and as far as I know, they come installed on all computers. (Don't leave yet, I promise it works)
SO, my
system
:
Step one:
You need to open up the program and create two new stickies. I like to keep mine around the same size, and two different colors.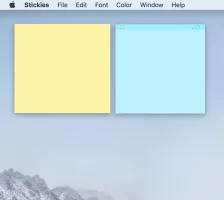 Step two:
Write at the top of one sticky, in bold,
GOALS
, and at the top of the other, TO DO.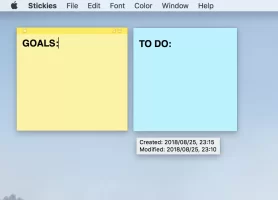 Step three:
As the names would suggest, you should fill the
GOALS
segment with your goals.
Give your road a destination
.
THIS IS OF VITAL IMPORTANCE.
If you don't write down your goals, this system will NOT work at cutting out your procrastination, as I will explain later.
If you don't write down your goals, this is the perfect time start. Make sure they're big and scary, and they're what you
actually
want.
It should look something like this: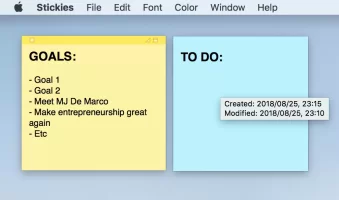 Step four:
Write down your to-do list. Now here's the important part, this isn't the "Go to the grocery store" "get milk" type of list. (I mean if you need to remind yourself, it's a great way, but that ain't the point.)
Every action on your to-do list HAS to line up with one of your goals on the sticky next to it.
It pays to be specific here. Instead of putting
"Billionaire by 14"
as a goal, you should put "
Grow my lemonade stand empire to 5 billion"
WHY? Because now you're limited to focusing on what's actually going to get you there. Suddenly all those fly-by-night business ideas don't work, because they don't align with your goals.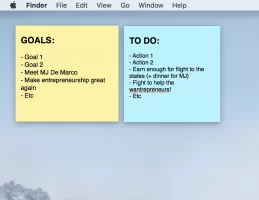 This streamlines what you do. If you're even thinking about doing something, write it down and compare it to your goals. Does it help you get there? What I also like to do is make important tasks bold. All you do is highlight the task and hit CMD/CNTRL + B. Now you know what to prioritize at a glance.
Step five
(The Magic):
See that toolbar at the top? You're going to want to open the "Window" tab, and hit "Float on top". Viola.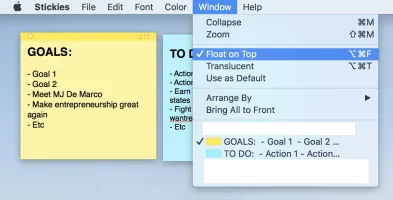 Make sure you do this to BOTH of your stickies, and you're golden.
Nothing happened?

Try open something on your computer.


You now have the full functionality of your computer and any software, with your to do list and goals staring you in the face
THE ENTIRE TIME.
They are now the most important thing on your computer, and they get treated like it. It gets really annoying sometimes, they end up in akward places covering important parts of your screen, and you have to shift them around a lot,
but that's why it works.
It becomes ridiculously hard to watch a vlog, netflix, or scroll facebook, with those two huge reminders of what you're
MEANT TO
be doing and where you
WANT TO
be hovering above your Game Of Thrones.
This has worked
WONDERS
for me over the past month, and I hope it helps you too! There are a million variations of this, but this is what I've found works so far.

K.I.S.S.

Drop any feedback, ideas, improvements below! Let's build a kickass system ⚡️
Last edited: