Hey everyone,
I have a big announcement to make about how we are going to be working
with several well-known names on these forums
and elsewhere to start teaching even more skills/business models and just in general giving a ton of extra value.
But more about that in just a minute.
Before we get into the fine details, let me just say thanks to everyone for the support (especially
@MJ DeMarco
) over the last 2 years. We are now over 300 students, tons of success stories, and an all-around great community with a very detailed training program.
What is Fox Web School and why should I care?
If you have been around the forum for a bit, you probably know what Fox Web School is and how things are going. If you haven't visited my other threads, though, the quick version is that if you are looking to start a Fastlane business but don't have a skill or a product to sell, web design is a great place to get started, as well as a great launchpad for any bigger Fastlane business you go on to create.
Just to start big picture with the school, because this might be your first time hearing about it, we have a really popular and respected Youtube channel: (
Fox Web School Youtube channel
)
We put out a ton of great free content to show we know what we are doing, and if you want a place to start I did a full series recently on helping a real-life boxing gym with a great website:
Full Playlist on Building a Website for a Business
Along with this I also worked on creating a
Web Design book last year
to help people starting off to focus on the right things. It is still the #1 book in its niche since it launched and has gotten great reviews…
(thanks
@MTF
who helped with this project!)
And then on top of that, we have the online school...
If you are new on this forum or you are still looking to start your first real business, then Fox Web School might be a perfect route for you to get moving towards your big goals right away.
In short, Fox Web School has been built around teaching you a solid foundation of profitable online Fastlane skills. The goal is to take anyone looking to get started on a Fastlane journey and get them going with their first profitable online business asap. We do this through web design.
We teach web design because it is such a great choice for getting started in business. With the way we teach, we focus on using web design to teach you skills like sales, marketing, copywriting, communication, problem-solving, management, adding value and plenty of other skills. The goal is to build you up so you're
ready and confident to start and grow any Fastlane business
.
We also teach (of course) the basics of web design and how to technically make a website, but overall, this isn't a technical program.
It is a way for a non-technical person to be able to jump into the game of business right away
and get going with real results. The original thread covered this really well,
so if you want more details on the program, check that out
.
You don't need to be able to code or design to do super well in web design
. There are so many tools that do the technical side for you, and to succeed and make money in web design these days,
it's 99% about having the right focus and mindset.
Also, just a quick note on the overall web design niche - it is consistently profitable. While other trends come and go, web design stays solid, as businesses always need a way to sell and market what they do and to reach new customers. Ask any business owner if they want more sales, more market awareness, and better online systems, and they will say yes.
Where most people struggle isn't the opportunity (it's huge) - it is that the common approach to web design sucks (no focus on actually solving problems and way too much focus on flashy design that does nothing).
Also, this is a great 2021 business - all you need is a computer and an internet connection. Every business right now is hyper-focused on sales and attracting new customers, and web design helps massively with both. There is no need for upfront inventory, there is no downside risk, you can go straight to your customers, and the cost of making a website is like $50-100 in software/tools.
If you are new,
here is the previous thread which explains things super well
and has a bunch of student reviews and feedback also.
In short, web design is an attractive option to anyone who is interested in starting a profitable business to get you going in a Fastlane direction quickly.
The end game, though, is NOT to be a web designer or a freelancer
Bottom line: Even though we teach web design, this program is not trying to make you into a "web designer." But everyone has to start somewhere, and web design works great for getting your foot in the Fastlane door. This is for people who are entrepreneurial, and we will NOT be teaching/promoting being a freelancer forever.
The school is built around a "get in and move on" approach. We don't want you sitting around selling $10k websites forever - once you're profitable, it's time to then use those skills and cash flow to move on up and do even bigger things.
Back to why I made this thread though - we are now expanding things and I want a separate thread to update the progress!
What is coming up next for Fox Web School?
Why I have made this new thread is we are now taking things to the next level, and this thread is going to be an announcement/update thread as we add new content, teachers and resources.
As I covered above (and I will show student results below, too) - we have built a really solid system over the last 2 years for teaching people how to get profitable with web design fast. We have all the content you will need, plus tons of extra resources and live calls/community/support, etc. It works consistently, people love it, and there have been a ton of great results.
But our focus has always been to help our students develop the skills to go beyond freelancing and start an even bigger Fastlane business.
So right now, we are going to upgrade our program to offer even more training on overall "business skills." The goal being that someone can join, learning profitable web design, and then ALSO learn copywriting, SEO, ads, marketing, email systems, basics of e-commerce and much more.
The end result would be that you are ready to crush any future business opportunities you go after next. You would have a versatile set of profitable skills to always rely on.
While there is a unique element to any Fastlane business, there is a large percentage of skills that are always the same, and that is what we want to focus on giving to every student. You'll take those skills with you no matter where you go.
We're going to do this by inviting guest instructors who are experts in their fields to teach their expertise. That means that we're massively expanding the program and the value that every student will get.
So what to expect from this thread over the next few months:
- Updates on additional skills being added to the program
These will be programs taught by other experts around specific skills. I have 2 in the pipeline already (update coming soon) and it will be great to build out over a dozen of these over the next year.
As we release new content into the course, we will update this thread, so keep your eyes open for these announcements.
- Expert guest calls from business leaders
We already have had some great guest calls with web design experts but now I want to start bringing in people who have built 7, 8 and 9 figures businesses using web/online skills. This will be really cool as to connect what we hope to help people achieve with the content we already have that helps them get started.
- An improved program set-up and extra resources
We have a really solid Fb group and community but I would love to make it even better. I hope to update this thread very shortly with massive improvements here. I got a lot planned here, but I want to wait to actually roll these out before saying what is coming up - updates coming soon!
What have the actual student results been like so far?
Really good.
For the program itself I asked people to leave a review on the forums
or on TrustPilot
:
A lot more reviews were left on this forum instead though and you will find quite a few of those
on the last thread we had
.
Just to add a few in here:
Also to get into more specific results I want to share data on
two commonly asked questions
:
1) What is the average time to land my first project:
For the majority of people, it is within a few weeks. We have a really good system for helping people to take action right away and get out there successfully selling in the marketplace.
Most initial projects are not going to be for huge money but once you get a few done it isn't hard to scale up and get into the 3-10k range. To be able to pay yourself 3k or more a month (profits) is highly doable within 6 months.
After you get profitable you can take it much further (sales that are 10-20k+), start offering more services along with web design (SEO, FB ads, etc) or start building that next level business right away.
2) What is an "average" sale for your students?
For when people get past the starting stage the average sale is around 4-8k. A few students go a lot higher but the $4,000 - $8,000 mark is what I would say is a normal project size of someone selling consistently.
Quite a few students offer additional services also which gives you a higher Lifetime Value for each client but I got no way to accurately know what that number would be. This could be anything from a $100 - $200 maintenance plan to a $600 - 1,000+ SEO plan.
Also, keep in mind that with web design 4-10k is the sweet spot where you can max profits (for time/effort put in) and do your highest ROI work. I have worked on up to $20,000 projects personally and while it sounds cool I would have been better off just doing 3 x $6,000 projects instead. The goal isn't to set records but to max your profits and skills for leveraging elsewhere.
Also what is harder to quantify is the results bigger than just the project sales. We have helped people quit jobs they didn't like, move countries, travel the world, improve their confidence and well being, take up cool new hobbies, and a ton of other fun stuff. To me, this is the best part!
Overall I think as a school we are doing really well and the vast majority of people are very happy with joining. We actually really care that people succeed and we do our best to make sure everyone gets a massive ROI and a real boost towards their big business and life goals.
Will it work for me?
I covered this a bit at the start of this thread but at this stage, we have a ton of data on who does well and who doesn't. The number one big trend is…
If you are committed you can make this work.
We have people in dozens of different countries, people in Uni or with a full-time job, people with family or other commitments and so on. None of these "barriers" were an issue.
The Global Fox Web School Student Map...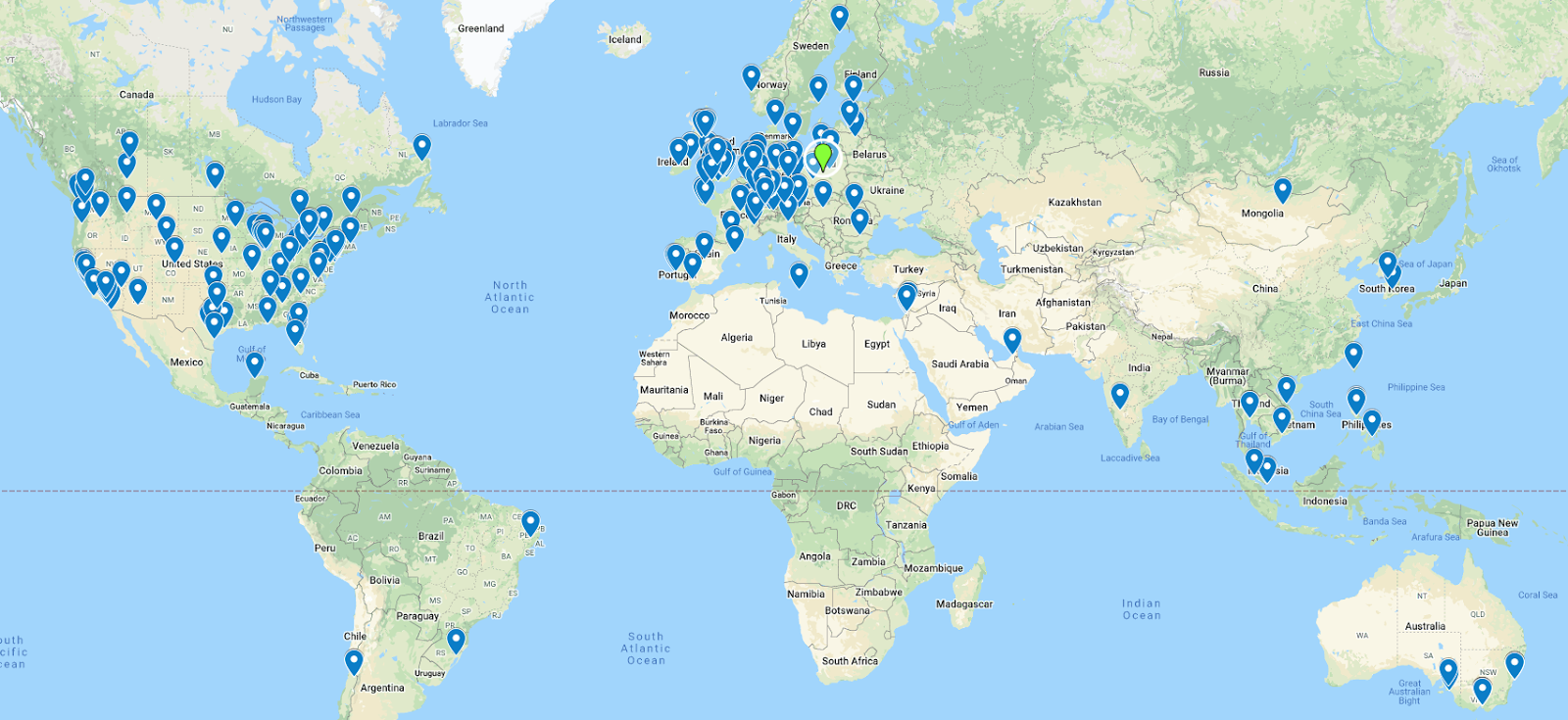 Also, technical skills are NOT needed to get started. There are so many ways to make websites easily nowadays and that side of things can be picked up within a few weeks.
It really just takes commitment and then some action. If you can join and show up we will help you every step of the way. Along with a ton of support, we also work on areas like motivation and focus too so you have us if you need BUT you can also look after yourself too.
For myself personally, web design was the first business venture that really took off after a long string of initial business failures - so don't feel like you need to be already successful to make this work. We expect you to be starting from scratch so any past experience is a plus!
How can I join?
1) Take the quick quiz to see how we can best help you
(I personally check and respond to each one)
Start by Taking Your Personal Quiz Here
2) Full Application
If you pass the quiz we send you out a link to a full application. This allows us to understand your goals and background so we can cover what matters most on a call together.
3) We set up a call with a student
I don't do the calls personally because I want people to talk to an actual student and ask them whatever they want. They also get direct feedback on what the program is and isn't.
Over the last few months,
@GuitarManDan
has done most of the calls. He is a great person for people to talk to since he started with the school a good while ago and has since gotten his web/SEO business to well over 10k a month while also starting a secondary business.
So if you apply you can talk to him (or someone similar) who will go through the fine details as to what running a web design business is like and if it would be a good move for you.
To set up one of these calls just follow steps 1 and 2 above.
4) If it is a good choice for you we will do our best to help you join
I am happy to try to help people who are committed and are willing to make it work.
If you are interested reach out and we can talk and see what is possible.
>>>
So if you are interested in joining I suggest applying now (click here to take the quiz)
<<<
Thanks for reading - if you have any questions just post them below or send me a private message.
***
The first step again is to take this quiz:
https://go.foxwebschool.com/PersonalLegendsQuiz