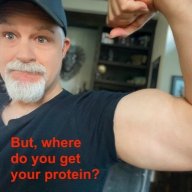 I followed the science; all I found was money.
Staff member
FASTLANE INSIDER
EPIC CONTRIBUTOR
Read Rat-Race Escape!
Read Fastlane!
Read Unscripted!
Summit Attendee
Speedway Pass
Jul 23, 2007
35,313
140,117
As I got settled into my new home and caught up on email, I was happy to see dozens of emails from readers and fans.
None of this mail was "hate mail" but a lot of messages of thanks and status reports of progress. Great right?
Sure, except my brain wasn't happy about it. You see, it was just another thing to do, another task to cross off the list.
Can you imagine that? People are writing me to say how much I changed their life. Or how well their business is doing and how their whole life has been reinvented. And here I am ... grinding through the messages as if I was doing my taxes. Instead of being in the "now" and understanding that there was a real human behind the email with a story, my brain was marginalizing and dehumanizing the email as "just another thing to do" so I can move on to the next task, like unpacking, marketing, or writing another book.
But luckily, I caught myself in this unconscious activity. This "mindless," go-thru-the-motions activity is just one of the many reasons why people fail...
your brain works against you.
As I read through the many emails, it became clear just how hard it is to live
Unscripted
and succeed in a world where being a Slowlane zombie is so glorified and promoted. As evidenced in my email review, even I still struggle with the
Unscripted
concept. As the thread title states, the game is rigged -- the odds are stacked against you.
First, your brain is not trained for success or to live
Unscripted
.
Your brain wants shortcuts.
Your brain wants to focus on the
past
and
future
, not the
now
.
Your brain can't shut the F*ck up.
Your brain is wired to take the well worn path, not the untested, unknown path.
Your brain is wired to avoid discomfort and fear.
Your brain wants to follow authority, not lead in liberty.
All of this merely creates a predisposition toward mediocrity and Scripted living.
Worse, culture and society is mocking you every step of the way to promote this mindless, dreamless way of living. Get a job! Get a degree! Don't buy anything! Save 10%! Do this, do that!
Sorry, but the more you consume mainstream media, the more rigged the game becomes.
The more you let your brain run roughshod over your decisions and impulses, the more rigged the game becomes.
In other words, winning an
Unscripted
life is akin to winning a rigged carnival game. Yes, the odds are against you.
But there is hope.
Isn't it true if you know how the game is rigged, you have a better chance at winning? In other words, you can win a rigged game when you understand
HOW the game is rigged.
You can win a war when you
UNDERSTAND the enemy and how they operate.
Did you know that even after ten years, many people still think that the core message of The
Millionaire Fastlane
is to "
start an internet business!
"?
Ugh.
As I concluded reading my reader fan mail, it was clear that many of the people who wrote me won't have a chance. Not because they didn't comprehend my book, or because they lack good ideas, it is because they don't understand the nature of the game and how it is rigged.
The marketplace won't defeat them, their mind will.
The truth is, your brain will work against you.
Your friends and family will work against you.
Your culture will work against you.
All of this creates the rigged game.
Once you understand the battle that lies ahead, you can be better prepared to defeat it.
Only you can beat the odds.
See the battle, understand the battle, and then win the battle.
No, you don't live and then die. DYING is an
event
. LIVING is the
process
. Make a conscious effort to LIVE your life, and not have life live you.
Good luck.