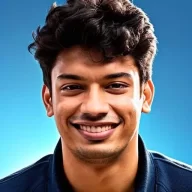 Bronze Contributor
Speedway Pass
A relationship with my Dad hasn't been on track since I can remember. He has always supported me, fed me, did everything he could for the entire family. He's 57 now, and I'm 29. We haven't talked like a father and son for a long time. I feel a certain discomfort in sharing even the smallest stuff with him. I do feel like talking to him, but somehow, I've always been a YES SIR type of guy. Whatever he wanted me to do, I did. He wanted me to be an engineer, I did. He wanted me to do a job to understand business better, I did.. for a while. I didn't enjoy it, yet I couldn't speak up in front of him. There are some things he does that I don't like, but I can't speak up in front of him, can't speak up in front of his decisions. It's not that I don't love him, it's just that I'd like a better relationship with him to share anything that I want to. There's always been a gap between us, and I don't want it anymore.

So, to all the dads out there… I need your help and advice. Has anyone been through/going through this with their parents? What they did or didn't do that changed the dynamic for the better?

I know.this isn't the place to discuss family stuff, but I didn't know where else to go, and it has taken a toll on my mental health, and it's getting worse.

Any help/advice is welcome. Sorry if this seems out of place.