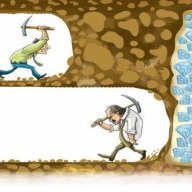 Never give up
FASTLANE INSIDER
EPIC CONTRIBUTOR
Read Fastlane!
Read Unscripted!
Speedway Pass
The college-student who was about graduating, said to an old lawyer:

"I have not yet decided which profession I will follow. Is your profession full?"

"The basement is much crowded, but there is plenty of room up-stairs," was the witty and truthful reply.

No profession, trade, or calling, is overcrowded in the upper story. Wherever you find the most honest and intelligent merchant or banker, or the best lawyer, the best doctor, the best clergyman, the best shoemaker, carpenter, or anything else, that man is most sought for, and has always enough to do. As a nation, Americans are too superficial—they are striving to get rich quickly, and do not generally do their business as substantially and thoroughly as they should, but whoever excels all others in his own line, if his habits are good and his integrity undoubted, cannot fail to secure abundant patronage, and the wealth that naturally follows. Let your motto then always be "Excelsior," for by living up to it there is no such word as fail.
P.T. Barnum, The Art of Money Getting (1880)​
138 years later, nothing has changed. If you've been looking for a business idea for months and reject all of them simply because there's a lot of competition, remember that:
1. There's always a market for a great service or product.
2. No matter the market, very, very few people embrace the
strategy of preeminence
.
I have a very simple philosophy on life. You shouldn't steal from yourself. If you're going to commit your life to an enterprise, wealth creation, the security and the financial well-being of your family… and if other people --- your staff, your team, your employees, your vendors --- are going to commit their lives to you, you owe to yourself and to everyone else to get the highest and best results. You should never accept a fraction of the yield when with the same effort or less, the same people or fewer, the same time or less, the same capital or less, the same opportunity cost or less, can deliver so much more to you currently, and perpetually.
Jay Abraham​