Limitless
Read Millionaire Fastlane
I've Read UNSCRIPTED
Speedway Pass
Nov 14, 2011
2,486
10,204
2,306
When I started out in entrepreneurship, I always had dreams and aspirations of putting myself out there and sharing my experiences to help others on their journey.
I never expected the amount of hate/negative energy/judgement/criticism that would come my way.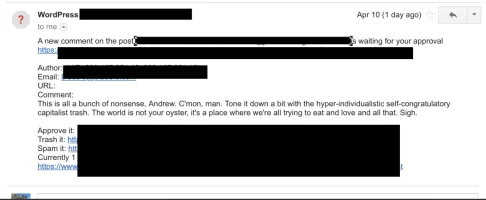 In 2015, this was a major problem for me and I let it get the best of me. Then I virtually gave myself a phD in psychotherapy to learn how to deal with it. So I decided to share with others.
The other day I wrote a blog post about how I learned how to cope with the emotional struggles of putting myself out there. It was originally an email sent to a fashion model who is currently facing emotional problems when she started to become famous. I published an edited version on my blog, only to get this comment be the first one to come in (irony lol).
In the past, this used to get to me. But now it further solidifies the difference between people who get it and those who don't.
Don't like ads? Remove them while supporting the forum. Subscribe.