Limitless
Read Fastlane!
Read Unscripted!
Speedway Pass
Nov 14, 2011
2,486
10,503




Find a Business Idea in the Next 21 Days


$100 Discount if You Enroll by October 20th
Limitless Academy | Andrew Alexander


​
Who This Program Is for:
Whether you're struggling to find a business idea, you have too many ideas and are stuck in analysis paralysis, or you keep jumping from idea to idea when you don't see results right away; this training program is what will get you settled in with the
right
product or service to sell for your business.
Main Benefits of this Program:
By the end of this training program (which includes personal mentorship calls), you will have the
clarity
and
confidence
to know that you are selecting the right product or service to sell, you will no longer jump from idea to idea because you'll be committed to growing one large business, and you will be certain you won't waste months to years of your time walking down the wrong path...
What is included in this program:
Three 60-Minute Personal Consulting Skype/Phone Sessions with Me (Andrew Alexander, Founder of Limitless Academy).
Video Training Program | Everything You Need to Find the Right Business Idea
A Pre-Release Order of my Book on the Topic.
Enroll by Oct. 20th and Receive These Six (6) Extras
​
If You Enroll Before Oct. 20th,
you will also receive the following:
$100 discount off this training ($149 instead of $249)
10% off of Limitless Academy Training Programs and Services for 12 Months (Inner transformation work, practical skills training in various areas of business, and release stress, anxiety, and boost motivation & confidence)
Video Course: The Cure for Motivation
Video Course: Unconscious Influence & Persuasion (Effective Communication)
The Guarantee: I will continue working with you until you are confident with the business idea you chose (the product or service you'll be selling to the market). You have to take action though and commit to this.
A 4th Mentorship Call, offered by one of the students of the Limitless Academy Startup Incubator Program, who just went through the process on selecting his product to sell - getting sales within the first 30 days, and is already getting a ton of great customer feedback saying how his business really helped their lives. He can give you a second perspective from someone who has been in your shoes before. He's also a member of this forum with a kick-a$$ progress thread...
What Makes This Program Unique?
(You Have to Read This Part - Especially #2)
​
Limitless Academy has been solving this exact problem for entrepreneurs for three years already.
1) Experience & Personal Mentorship
Unlike traditional 'info products' or 'video training courses', this offer comes with personal mentorship calls from someone experienced in selling over 12,000 units of digital and physical products, services up to $4,500 per sale, and has helped hundreds of Fastlaners start and grow their businesses after my first business took off in 2014.
2) Inner Transformation Experience
- I am trained and experienced in a number of unique skill-sets which most people never even heard of. Through this inner-change work, I will release any lack of clarity, focus, direction, or doubts you may have struggled with in the past in the matter of 60 minutes or less (over 300 client success stories already using this service).
It's the
emotions
you have which lead you to actually pursuing the idea and making quick meaningful progress with your business.
You want the direction and clarity where you know the product or service you sell will lead to a profitable and successful business.
You want the confidence to know that you won't be wasting months or years of your time trying to go after the wrong idea. Most people stand in place when they don't have this confidence. It takes a single Skype or Phone call session to develop it.
You want the commitment and focus to avoid 'shiny object syndrome', jumping ship from your idea to the latest fad or crazy (T shirts on Facebook, bitcoin, pokemon go).
This way, when you commit to one thing, you will finally start seeing the results you've been looking for.
All of these things that are really holding you back are
internal
thoughts, feelings, and states of being. When my first internet business took off in 2014, I began traveling a lot and learning even more about things that I now use to help you have success in business.
I've spent thousands of dollars, years of my life, and countless hours mastering skills such as Neuro-Linguistic Programming (NLP), Psychology, Quantum Physics, Hypnosis, Spiritual and Metaphysical transformation work, Eastern Medicine, and in 2015 I even went on to get trained as a psychic.
Mixing these techniques with the practical experience I've gained from being a Fastlaner since 2011; I truly offer a service that nobody else in this world is capable of providing you.
Time is your most valuable asset, and think about how much of it you will save by finally having the confidence in a product you're going to sell today...
​

View: https://www.youtube.com/watch?v=IRh_05uOEtU
Life Is About Enjoying Your Experiences​
My mission in life is to help people break free from the life they feel stuck in, so they too can live the life of their dreams. Outside of doing this through entrepreneur training, I publish books on relationships, motivation, happiness, stress-management, and healthy eating.
I call Boulder, Colorado home, where I spend most my mornings hiking through the Rocky Mountains. After that, I open up my laptop, grab a cup of coffee to write the latest book I'm working on, work on my business, and then I spend three months out of the year packing my travel backpack and exploring a new part of the world.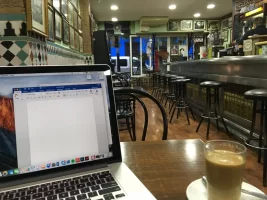 Running my business from a cafe in Granada, Spain | 2016
Limitless is about the transformation from where you are to where you want to be. No matter how stuck you've felt in the past, the time is now where everything turns around for the upward spiral of success that is waiting for you, and that you deserve.

Why I Created This Business for You:
I spent 2.5 years wasting my time with the wrong ideas, and I found a way to help you avoid the same painful mistakes I made when I was in your shoes.
After my first business took off, I spent my time learning inner-transformation work to rapidly reprogram your mindset and emotional state so you no longer lack the confidence, you no longer procrastinate, you no longer doubt yourself. You know exactly what steps to take, you know how to make sales, you know how to market your product or service, and you are making meaningful progress through the work you are doing; allowing you to grow your business quicker and faster than going at it alone.
After honing my skills and helping a number of fastlaners for free, Limitless Academy was founded in 2015 to help solve these problems in your life as a business venture.
My personal goal for Limitless Academy is to build a training ground that goes on to educate and transform some of the most successful entrepreneurs on this planet; who impact hundreds of millions of lives, solve real needs in the market, and create real businesses that make the community, the market, and the world a better place.
The reason why I am so committed to helping you
actually
be successful (instead of just putting out an info product like too many people out there) is because in 2018 and beyond, I want to begin investing in businesses that I know will be successful. By creating this training academy (March 2015 - Present), I will be able to guarantee my success as a future angel investor.
My promise to you:
If you're struggling to find a business idea, you doubt yourself, and you want the clarity in direction and confidence that you won't be wasting your time walking down the wrong path with the wrong idea,
if you enroll by October 20th
, I will stick with you and support you all the way until you reach that next level of your business...and you already have your idea and a clear direction to start building it. The only thing I ask is you provide the open mind to new ways of doing things, and the actions you will be taking.
Frequently Asked Questions
(These are not actually FAQs)
​
Here's a sales tip for you.

When you see the FAQ section on good sales copy, it's the polite and happy way of overcoming any objections that would prevent you from buying this product. I'll call it what it is - you have objections that might stop you from buying now, and these "FAQs" will remove those objections. Even with you seeing the clear benefits of this program, even after you got to know more about me and my experience and know I can help you, you still might have some things going through your mind that prevents you from enrolling in this program today, right now.

So through these "FAQ's", I'll overcome the last remaining objections that might hold you back and slow you down from jumping on this right now...
F.A.Q. #1 - Do You Offer a Money Back Guarantee?
​

No!

You see, what you're
supposed to
put here is a 100% no-questions-asked, 60-day money-back guarantee. But I've worked with a lot of people from this forum for free (and paid) since 2014. The truth is that most people talk about being an entrepreneur, but they aren't' actually committed to being one. This is not one of those info products. This is me spending 3 hours of my valuable time helping you one-on-one through Phone/Skype calls, on top of the book and video training modules that will help you choose the business idea in between our calls together.

So by
not
offering a money-back guarantee, this allows me to screen out the ones who would waste both my time and theirs, and I'll only attract people into this program who are actually going to be successful in entrepreneurship. It is my goal, and my intent, that if you enroll in Limitless Academy - You will be successful in entrepreneurship.

I also don't guarantee results for you. You and you alone are 100% responsible for everything you do (or don't) get out of life. Nobody is going to do the work for you. I can only show you the way...

F.A.Q. #2 - Do You Have Any Past Client Referrals?
​

Sometimes the question doesn't uncover the real objection.

What do you really want to be certain of?

You want to be certain that I deliver on what I promise. That by the time you finish this program, you will have a business idea that brings you in 6 or 7 figures per year. You want confidence in the product.

I'll be completely honest with you; I have at least 160 testimonials from people who struggled to get their business started, they hired me, and the struggles went away after a call together or after they went through a video program of mine.

But they come in the form of screenshots of skype convos, facebook messages, text messages, you name it. To put all of the success stories on here would not look pretty, so I'll put two of the ones I have on my homepage at Limitless Academy - from Fastlaners here.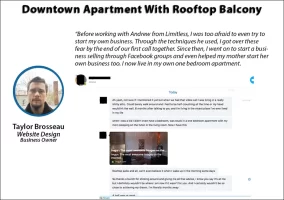 F.A.Q. #3 - Can You Offer a Payment Plan or Extend the Offer Past Oct. 20th?
​

Have you read this book called The Millionaire Fastlane ?

Inside that book, what is our most valuable asset? Not money...

Time.

Every day you don't have your product or service to sell is a day you are essentially losing money.

Look at it from the Fastlaner perspective (I am losing money every day I'm not selling products for my business). Most Slowlaners set $0 per day as their baseline goal and are happy and content with that because they'll be staying with their day jobs forever. Do you have any clue how much time you'll save and how much quicker you'll start making sales when you have your business idea set in stone?

The real benefit of this service is all the additional days you'll be earning revenue when you make meaningful progress sooner.

Before myself and my friends built our first internet businesses, our goals were to be making $100 per day. That was the big milestone, and we all reached it.

Imagine that it will take you one year of work before you begin making $100 per day (or more) if you go at this alone. Now, imagine if you start making that $100 per day 21 days earlier (by enrolling in this course). You will make $2,100 more in profit by enrolling in this course now. If this program helps you get your business up and running 3 months faster, that is $9,000 profit by enrolling in this training now.





The Slowlane Way of Thinking (I will be spending $249 - $149 if you register today).

The Fastlane Way of Thinking (Every day wasted is a day I'm losing money). The ROI on this investment pays for itself.
What Happens When You Enroll Now?
​
This is how the process works:
You Enroll in this program by clicking the link at the bottom of this first post.
You will be redirected to a page to schedule your first session (skype or phone).
Within 24 hours, I will email you a pre-session workbook to help get you on track and focused with the direction you are going to go with your business.
After the first session (60 minutes), I will send the follow-up workbook for you to complete and we will work out the arrangements for our second two calls together. If, by the end of the second call, you don't have your business idea set in stone; you will get access to a full video training course and a book I'm writing to help you out, and we will schedule our third call after that.
If you enroll by October 20th, I promise to continue to help you until you are 100% set on a business idea with the confidence that you will succeed. BUT...You have to hold up your end and take action and commit to this...
What Happens If You Don't Enroll Now?
​
Most people who don't build a successful business have their tires spinning in circles, not going anywhere.

They keep falling into their old ways, remaining struck, frustrated, and doubt that they could ever succeed. They go through these forums and look up to the progress threads, the travel stories, and the gold threads that other people are creating.

These people are the consumers of other people's Fastlane success stories...

But they are not creating the life they want to live.
They will continue to jump from idea to idea.

They will stay in place, and not move forward because they are not confident they are choosing the right idea.

Another 3 months will go by, and their live looks the same.
Do you ever have those times where you look back at the last 3 months of your life and you notice how nothing has changed? It's hard to see it until you really think about it...time wasted. You haven't grown as a person, you haven't accomplished anything, your friends and family still look down at you and tell you that you're wasting your time...

You are still dreaming of having the business, but you're not actually taking action on one...

That's what life will stay like for those who don't enroll in this program.
What Won't Happen if You Don't?
​
What won't happen if you don't enroll in this program?

It's a question to think about...
If you're ready to have the clarity in direction, knowing exactly what steps you need to take next...
If you're ready to have the

confidence

that you won't be wasting months or years of your life working on the wrong idea...

If you're ready to have the

focus

on building

one

, massively profitable business...instead of jumping from idea to idea...

If you're ready to have the

certainty

that you will be selling a product or service that will turn into a profitable business, and that your customers will love and thank you for...

If you're ready to already have your business idea and already be committed to being a successful Fastlaner so you can FINALLY move on and start making actual sales for your business...
This program is exactly what will get you there...but only you take that next step forward...

Questions?​
Skype: andrewalexander1114
Email: Andrew@LimitlessCEO.com
Fastlane Forum: Reply to this thread/PM Me
Last edited: