@Andy Black
suggested that I post here "because it's a great product" (thanks Andy!)
I launched my SaaS tool (Leadforms) on Product Hunt today and it's at the top of the first page and has already been featured as the #1 Product of the Day!
I
have a thread on the inside about my progress over the last year. I'll dig up the link- it's kind of funny to watch me spin my wheels in the beginning.
The goal is to finish the day in the top 3 spots, so my product will be featured in the Product Hunt newsletter.
How you can help:



I'm looking for people to leave some comments and feedback on Product Hunt. Here's how to leave feedback..
Upvotes would be nice too
1. Go to ProductHunt.com
2. Search for Leadforms
3. Then you'll see exactly where to leave a comment and upvote it.
Or you can do it through a widget on my site:
Leadforms - Product Hunt
- just tap the product hunt icon
Some background:
About a year ago, I launched my SaaS tool (Leadforms) to the public. It has been tough... But to date, Leadforms has been installed on just under 1,500 sites and generates 1,000's of leads per week.
About two weeks ago someone approached me and said that I should try launching on Product Hunt. So I figured that I'd go for it and think of this as a test.
Within two weeks I had to pull together a ton of stuff:
- Video (which isn't perfect)
- Animated GIF avatar
- Product Screenshots
- Landing Page, and so on
Between getting the help I needed for the launch and paying freelancers for some stuff, I've spent about $1,250. This may seem like a lot. But just a few customers allows me to break even.
So, we sat down last night and scheduled the launch and things are going well.
Reporting Results & Sharing Strategy
After this is all wrapped up, I'll report my results. The good and the bad. I'll turn this entire thread into a case study that discuss:
- How I got featured at the top of page #1
- How much traffic this actually brought in
- Revenue numbers
- Other benefits (already have two backlink opportunities)
- If this was a success or not a success - And whether or not it was even worth it
- Step by step playbook, including what to do after the launch
- A few Product Hunt things that I learned along the way
Again, if you could please visit Product Hunt and comment or upvote Leadforms, it would be greatly appreciated!
Quick Note:
For those of you wondering why I did not direct link to the Product Hunt page. I've been told never do to this because it could set off Product Hunt's spam system. It's always better to have people organically find your post.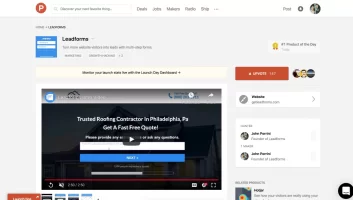 Don't like ads? Remove them while supporting the forum. Subscribe.
Last edited: