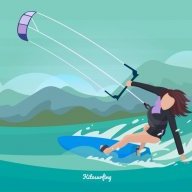 Bronze Contributor
Read Fastlane!
Read Unscripted!
Speedway Pass
User Power
Value/Post Ratio
230%
May 24, 2017
145
333
I used to think I have had a
FTE
but now realize they were just a FTM.
8 months ago I was working in a job I hated with a boss that was making my life miserable and have been wanted to quit for a long time, but was postponing it. Until one day the colleague who was sitting next to me died from a heart attack leaving his wife and kids behind at a very early age ironically one day before going on annual leave. It was not the first heart attack in the department that year but the only fatal one. I was in shock and reflected a lot and decided the moment to quit and start a new life was NOW, not in a couple of months because it was graphic to me: there might not be a tomorrow.
It was my first real
FTE
, I quit my 6 figures job, packed my stuff, took a plane and move back to my country.
Coming back was difficult, I found several difficulties but was determined to stay in the fastlane and I started working on my business until the perfect storm arrived: things got messy with a family issue and I got a very tempting job offer (they came looking for me) and I was weak and accepted.
At the beginning I was happy, and any time I was not at this new job I was working on my business, but they were the summer months that generally have lower activity. The workload increased and I was working many hours plus commuting two per day and the job started draining all my energy aso my fastlane was slowing down, and here comes my second and more real
FTE
:
Last Friday, completely out of the blue, after always receiving excellent feedback, my boss fired me, apparently, working +12hours per day including weekends and many holidays is not being committed enough. To make things worse they did it two days after I lost a very dear and close family member. But, the funny thing is that I felt liberated, and, for the first time I realized how true is that working for someone else is more risky than starting a business. It hit me, the same way it hit me when my colleague died.
After all, they can repeat 100 times fire burns, until you do not get burnt you don´t truly get it. Using MJ´s metaphore of the prison cell and the shit pipe, I panicked and I went back to a different cell, hoping it would be more cozy and with the false perception I was advancing on my fastlane, but in the end, you have to focus and you have to choose.
Life is a bout priorities and if those are clear any choice should be easy to make: I choose the fastlane, I am not going to commit to and sacrifice my health for someone who would not hesitate to replace me at any time for any reason.