Apprentice & Student Of The Game
Read Fastlane!
Read Unscripted!
Speedway Pass
User Power
Value/Post Ratio
334%
Jan 28, 2022
761
2,540
What does it take to get up to 1,000,000+ eyeballs on your brand?​
Some people may be thinking "
1,000,000
? I tried this social media thing and I've barely gotten a single view! What am I doing wrong?"
Let me ask you a question
- WHAT are you posting on social media? Is it structured for success, or did you just record a 20 minute video and post it on YouTube without thought?
Here's why I ask
:
Whether anyone likes it or not, we're living in an attention economy where people have extremely short attention spans, and in order to get them to become obsessed with you and watch your stuff on social media, you need to do three things:
1.
Make Them Stop Scrolling
2. Make Them Watch Your Full Video
3. Get Them Intrigued Enough To Click Your Page and Watch More, So They Become Familiar With You
Because think about it, when we see a new person on social media no matter how amazing they may seem, we are at first reluctant to listen to them. Our "croc" brain takes over and in that moment we see someone on social media for the first time, the person making the video needs to REALLY hook us if they want us to click their page, watch more of their stuff, and become a fan or customer of their brand.
To give an example, MJ's
TMF
is my bread-and-butter book that I recommend to absolutely everyone. However, before I
really
knew who MJ was, I felt reluctant to take in the information with a 100% open mind until I started consuming more and more of his content. I didn't have any trust in him yet. I know that there's thousands of other people out there who also have life changing advice like MJ - but they haven't hooked my attention yet, because perhaps
I saw one of their videos and scrolled right past
because it wasn't intriguing enough
.
The moral of the story is, if you don't have any content, or the content you put out doesn't grab attention, how can you expect any random person who comes across you on social media to become familiar with you and trust you to the point where they want to consume and purchase everything you put out into the world?
Anyone using social media who is deficient in the needed qualities to get attention will become lost in the black hole of the millions of videos being posted every day..
So if you're someone who can relate to the above, it may be time to think about if
how
you're investing your precious time on social media is actually helping you grow, or making you head down into a ditch with all of the other people trying to use social media with no strategy.
What Is The Solution To Actually Succeed On Social Media?​
Want the simple answer?

Create awesome videos that people want to watch.

Simple, right?
Probably not.. a lot of people may be asking "Okay.. create awesome videos.. How in the world do I do that?"
Here's the strategy
:
1. High Interestingness Level (Inspiration, Education, Value)

2. Structure The Videos In a Way That Gets People To Watch Till The End (Here's one of my threads on that topic for those of you that haven't seen it: Click here to see my thread)

3. Edit The Video So That It Is Extremely Hard To Scroll (which then leads to people wanting to find out more about you, so they click your page to see what other content you have.. then as time passes that they're familiar with you, they then become die-hard fans or customers)

But I know what a lot of you are thinking.. "I understand, but I don't have time to learn all of this stuff, I can't sit down for hours and edit these videos, even though I know they'll benefit me!"

What if I told you that you don't have to do ANY of the following?:
Spend time posting on social media
Spend time worrying about losing business to competitors because they're killing it on social media and you're not
Waste time making videos that aren't going to reach an audience
And you can start doing/having more of these?:
Focus on being a business owner and building your Fastlane System
Have tons of more mental clarity knowing that your online presence is taken care of
Have social media videos that new people in your target market are constantly seeing/selling for you while you sleep
Forever have a portfolio of social media content that portrays you as an expert that you can show to anyone
Build even more credibility with your current customers by displaying your knowledge, allowing them to refer you to other clients/customers much easier
Meet people on social media in your industry who are similar to you and connect with them for collaborations, which means you'll get an even larger audience from them
Get your target market addicted to your portfolio of videos
All in all, your social media serves as a massive credibility statement that can be a real asset to you if it's used correctly.
The above is all great and dandy,
but a lot of business owners just don't have time to do all of this consistently
..
That's where my team and I come in.. We are
LoochiMedia
What Do We Do at LoochiMedia?​
We make short videos for businesses that get hundreds of thousands of eyeballs.
But wait, there's more than what's in the image above..

We don't simply just take your clips and put subtitles on them.. No, it's much more than that.

Instead, we take ANY video you've created and we move things around.. Any edit we add to the videos are there for a reason, there is no meaningless edits. They are meant to grab attention, get the viewer hooked on you and your brand, get the viewer to binge watch your content on social media to learn more about what you do, and get them so intrigued that they end up loving you so much that they become a customer.

We take into account that an understanding of human psychology is needed to grab attention..
Here's some of our work:
To see more of our work,
CLICK HERE
(please note not all of the above are clients but people I made individual videos for as demonstrations)
Why Should You Listen To Me?​
You might be thinking
"Everything you're saying is great.. but Joe down the street told me he can make me social media videos too"
Let me give a short insight to why I'm someone you should trust with this potentially vital part of your business:
The truth is, I'm one of the few people that owns a media agency that actually practices what I preach.. I didn't one day say "I'm gonna make a media agency because that's what Gary Vee did!"
No, the reason I created this agency is because I spent years posting thousands of videos, mastering the art of attention on social media. I've built multiple social media accounts for myself (TikTok, Instagram, and YouTube),
amassing over 80 million views in the process of creating content for these social media platforms.
Heres a screenshot from a couple of my accounts: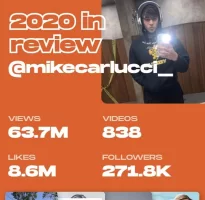 The content I post may not be for you, but I can assure you one thing:
we intrinsically understand how to get attention on social media, no matter what industry you are in.
As a matter of fact, in the section below I included some results from people I've helped / testimonials (and some back story behind them)
Why Work With LoochiMedia?​
What if I told you lot of media agencies making videos for businesses are holding a little secret that drastically decreases the quality of their videos?
When I started my agency, I actually held this little secret as well but quickly noticed how
unethical
it was and how horrible my original product was because of it..
They pay virtual assistants $2-4 a video to fulfill their media services for clients.
Let me be clear, a virtual assistant taking some video footage and throwing some editing on it will
NOT
work as well on social media. These videos are not structured for any type of success and will
rarely
hold an audience unless the charisma of the spokesperson is unmatched. Just because someone can throw some editing on a video, does not mean they are delivering a good product.. Be careful when working with these agencies.
At LoochiMedia, one single edited video takes us on average one whole hour or more to make. There is creativity, complexity, and psychology involved. We produce videos that 99.9% of people could not recreate even if they tried their hardest, simply because they don't have the knowledge or experience that we have.

I am also not the only person at LoochiMedia who has been creating content through trial and error. Even one of our editors has posted single 50 second videos that have attracted upwards of 6,000,000+ people.
Here is a testimonial and result we've gotten for OTHERS
:
Story behind testimonial:
This is Luke - We worked together in 2021. He owned a TikTok page that sold sports betting services and basketball card gambling. At the time, he was posting on the account but wasn't getting much traction at all.. And so he messaged me for help and I agreed to make him 10 videos.

I put together a strategy to make 10 videos for him that I thought would do super well. Within posting two of them, we already had over a million views on one of our videos. After the 10 videos were posted, in total we had another video reach millions of peoples and the others reached hundreds of thousands or tens of thousands.

The best part? the people viewing the account were Luke's target audience! They were the exact people that would end up buying from his services.. And it created him a loyal audience and a successful business.
Luke then took my strategies without me and started creating his own successful videos that were attracting hundreds of thousands if not millions of novel fans.

-

Client Result:






62,000 may not be hundreds of thousands of eyeballs, but see this:
This was done in the first month on a single Instagram account that had only 300 mostly inactive followers when we started.
Client Result 2: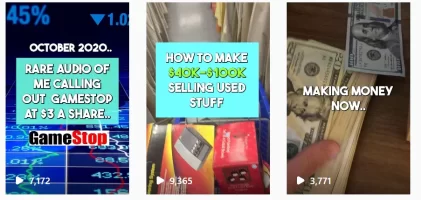 Within the first few videos made, this client is already pulling in tens of thousands of new eyeballs!
What Are The Requirements To Work With Us?​
You Must Either Have a Spokesperson or You Must Be One Yourself
You Must Have Content Created Or Be Willing To Create It So That We Can Turn It Into Edits (Podcasts? YouTube Videos? Old Live Videos? ETC)
You Must Have Something To Talk About (Your Industry Topic) That Can Do The Following: Educate and Interest a Lot Of People At Scale
You Must Have a Brand That Can Genuinely Benefit By Scaling Up On Social Media
Willingness To Stick With a Proven Plan
Who Is LoochiMedia For?​
Put Simple:

LoochiMedia is for businesses / business owners that knowingly will benefit from massively increasing their social media accounts. But not just any business owners, we are for businesses that have an audience of people that could talk about their topic for hours on end. There must be a significant amount of interesting things about the business that people love. (E.G. Fitness, Business, Beauty, Marketing, E-Commerce, B2C Services).. and so much more!
Pricing​
***********

Our Packages Are As Follows:

REGULAR PLAN


15 Videos That Are Structured And Edited For Success Per Month

For a Fee Of $497 / Month (roughly $33 per video)



PLATINUM PLAN:


30 Videos That Are Structured And Edited For Success Per Month

For a Fee Of $997 / Month (roughly $33 per video)



PLATINUM PLUS PLAN:


60 Videos That Are Structured and Edited For Success Per Month

(Best Value)



For a Fee of $1997 / Month (roughly $33 per video)

*Want your own sample video before you commit to a plan? We will make you one single video for a one time charge of $50 (please also send an e-mail to mike@loochimedia.com with the subject line "SAMPLE")*

***********

If you think about it, hiring us is kind of like hiring an employee that works 6 hours a day for roughly $10 an hour..

We genuinely believe that these offers are a no-brainer for hours of our time being invested into videos, and with us going as far into our creativity and expertise to give you the best results possible.

We don't price it the way we do for no reason, it's justified based on simple math:

let's say you're a B2C business owner selling access to something for $1,000+. If you're someone who knows what you're talking about, and you are getting hundreds of thousands of new eyeballs on your social media pages, only 1-3 of those people need to see value in your content every month (meaning they go as far as to purchase your products) for you to make a profit with us depending on which package you choose.

Remember, the people that watch your videos are in fact real people. Real people with real money to give you if you give them enough value on social media.

And don't forget about the lifetime value of those clients/customers!
Short FAQ:​
Do I Need To Be Super Charismatic On Camera For This?

Although charisma is a great benefit, you do not need to be the most charismatic person in the world to succeed with us. With our knowledge and expertise we can make even the most boring of videos into something that is attention grabbing and interesting.

Are Results Guaranteed?
Although we cannot guarantee results, we do 100% guarantee our highest quality of work that we can possibly provide.
How Quickly Do You Start After I Become a Client?
As soon as we have our first bit of raw footage from you, we can assure you that we get to work immediately.
PS: We truly believe in our value and will do absolutely everything we can to get you the results you desire!
Thanks for reading guys,
Mike C
Last edited: