Hi,
I was watching Matrix recently.
And inevitably, the famous line rolled in: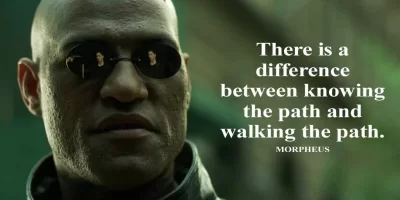 Dang! It made me think.
For the past few months, I haven't walked the path, and my income has dried up.
So I decided to get back on it.
Stop action faking and start action taking.
The problem is, I've made this commitment to myself before.
And I discovered I don't keep it when I'm accountable only to myself.
I believe it'll be different this time.
But..
"You can't keep doing the same thing and expect different results"
Of course.
I must do something different.
So I decided I'll be accountable to the people on this forum.
Hence this thread.
--
Now,
Let me share some details and self-imposed rules:
The challenge: Earn $5,000/mth online.
Time frame: ASAP
How: Service business - marketing agency.
Traffic: Various methods of cold outreach (email, IG, FB, LinkedIn).
Conversion method: Get people on the phone, diagnose a present pain, offer a solution.
I realize the only specific thing above is the $ amount. The rest is vague because I don't know how it's going to turn out. I plan to throw a lot of noodles on the wall and see what sticks. And then throw more of the same type. In other words: double down on what works.
I'll start where the herd is but I hope to discover some green pastures where the fresh gra$$ grows
--
I'll write my next report by Saturday evening (3 days from now).
In it, I'll include:
what progress I've made
how much I've worked
what I've learned
how I plan to improve.
--
That's it. Thank you for reading.
Please watch this thread - I'll try to share valuable lessons along the way.
Don't like ads? Remove them while supporting the forum. Subscribe.