Are you a copywriter? Maybe you are writing your own books and publish them for profit.
Or maybe you simply have a business where you have to send out a bunch of emails yourself.
What all those things have in common?
Every single one of them involves
typing
. Even here on this forum.
You type.
Under several people's nicknames, you can see "Legendary Contributor"
They also type. A lot.
I'm not going to get into a long story of how I decided to pick up a fast typing skill.
Basically I had this thought at the back of my head... "I type with the speed of my grandma. "
And I always knew there are some people who can do this magic fast-typing thing.
Is this skill going to turn you into a millionaire and develop worldwide business?
Of course no.
But it's going to save you a lot of time in the long-term.
And as you know time is your most important asset, that you can put back
into your business or passions. It's more like an additional, not essential skill.
Okay, I exaggerated a bit with this grandma speed.
I typed with about 45-50 Words Per Minute (WPM) range.
It's not bad, as I looked up the stats, it's better than average.
But still. There is more potential.
I believe most people (for sure most of you on this forum) can develop their speed up to 70 WPM easily.
"Okay, I type 20 or 30 words faster, why would I care?"
As I said, if you're writing a lot - it matters.
30 more words a minute is nothing.
But compound it over an hour, or two, and you get the same thing done in half time.
What would you do with an extra hour or more every day?
Answer for yourself.
Let's get into it.
How much time it will take me to improve?
It depends on your current level. I advise you to do some typing speed test.
I went from 45 words per minute up to constantly cracking 70+ right now, with 13,5 hours of total practice.
There are a lot of testimonials of people who doubled their speed from 35 to 70 WPM in about 15 hours.
It was quite harder for me because English isn't my native language, therefore I was making a lot of errors.
I still do, but it got so much better.
15 hours you say? that's a lot
Actually it isn't. I was doing the practice every day for about 10-30 minutes.
Usually, I did like 15, sometimes I did 7, when I didn't feel like it.
But overall it doesn't require a lot of work, you can do that on the break from your work, whenever.
Why would I believe you?
So here are some screenshots.
I just made a few tests today, to show you that I actually been walking this path myself.
This was my max speed, but it was on the easy words, so let me show you a more relatable one.
On the actual text.
(I still do some errors as you see, but working on it)
How do I actually learn that?
I tried to learn this in the past, but I found some useless programs that were teaching you
How to type non-existent words fast.
Something like. "jjjjjjjjsssss"
Completely pointless.
I found that the best one is
keybr.com
Not only you are learning using combinations of letters that naturally occur in the English language.
But also you have personalized feedback
So if the programs see that you are making the same mistake over and over again.
Let's say you have problems with the letter "p"
Then it will give you more exercises to train this particular letter.
And another benefit is not giving you everything all at once, but letting you develop the feel, for every one of the letters.
One by one.
So you are not overwhelmed.
Is it free? Do I have to download something?
It's 100% free, that's why you are going to see ads on this page.
And you don't have to download anything, just create your basic account, to check out your progress over time.
Hands positioning.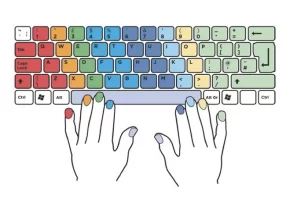 It's the whole concept of fast-typing.
Before, I was typing with like 2 or 3 fingers only, so it was kind of hard to override those old habits.
But I did it over time so can you.
At first it's going to feel very uncomfortable, and weird. But you will get used to it, trust the process.
And in no time you will never want to go back.
Just like me.
-----
That's all. I started to do that when I was thinking about the career in copywriting.
I gave up copywriting, but this skill stays with me, it will definitely help me in other areas.
So that's what I got out of my pursuit. I wanted to share this with you guys, to help you
get things done faster.
edit:
If you find it difficult to figure out where to put your fingers, try this out, it's free as well.
typingstudy.com
Don't like ads? Remove them while supporting the forum. Subscribe.
Last edited: