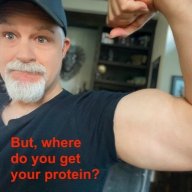 I followed the science; all I found was money.
Staff member
FASTLANE INSIDER
EPIC CONTRIBUTOR
Read Rat-Race Escape!
Read Fastlane!
Read Unscripted!
Summit Attendee
Speedway Pass
User Power
Value/Post Ratio
438%
Jul 23, 2007
36,989
162,176
I write this with a heavy heart.
It has come to my attention that a forum member with some pretty good post history was recently involved in a tragedy that resulted in the death of innocent person due to this person's
alleged
negligence. In short,
alleged
drunk driving and driving the wrong way on a freeway. The result of this poor decision was someone was killed, and this person arrested and possibly charged with some serious offenses.
In short, many lives have been destroyed due to ONE POOR DECISION.
While it is difficult for me to write this post, it needs to be done because it just might SAVE LIVES. And if it saves lives, it will save a lot of other lives from the tragedy and turmoil that will certainly follow -- not just for the victim and his family, but the person who made the poor choice.
This was a topic in my recent book and had its own chapter.
I called it a
Downside Asymmetric Risk Event
... how 1 bad choice can erase 100s of good choices, and irrevocably change your life forever. And others.
I'm going to post the chapter here for your reading.
Again, I wasn't sure if I should post this but then thought,
if this thread can SAVE ONE LIFE (and many others) then it is worth it.
D.A.R.E stands for "Downside Asymmetric Risk Event" -- here is the chapter.
T

he D.A.R.E. STRATEGY

After three vodka tonics, I felt light and free. I'd just met a woman on an internet date, and the meeting went fantastic. Eye contact, engaged conversation, a few hair-flips; my ego was surging with confidence. I hopped into my 850-horsepower Viper and started the drive home. Five minutes later, my car was wrapped around a twenty-foot date palm, destroyed. But my life, luckily, was not.

What happened? With a hot ego and lowered inhibitions, I thought I'd street-race a throaty Mustang. I throttled hard, spun out, and crossed into oncoming traffic, broad siding a tree. In hindsight, I failed to recognize a DARE, or a Downside Asymmetric Risk Event.

If you haven't noticed, asymmetry is a big theme behind a

great rat race escape

. A Downside Asymmetric Risk Event is when your choices have best ndworst-case consequences that are unevenly skewed negatively: minimal upside, colossal downside. It is a failure at consequential-thinking. When I'm street-racing on a crowded city street in a car sauced with nitrous, my upside is a fleeting burst of adrenaline and a superficial ego boost. Ten seconds of fun, eh? The downside is I crash and kill myself. Or someone else. The downside is catastrophic and lasting, perhaps eternal. The risk of this action (street racing) and its outcomes are disastrously asymmetrical. Remember, one poor decision can invalidate thousands of good ones.

Whenever you fail to identify a DARE, which could be a literal dare: I dare you to jump off the cliff, I dare you to eat the whole bag of marijuana gummies, you're playing Russian Roulette. Your lousy decision loads the gun. While there's a decent chance you can escape the consequences of your poor choice, there's also a chance you'll blow your head off. While none of us would willingly

play Russian Roulette with a loaded gun, you are whenever you make poor choices. A DARE becomes a bullet.

Remember that medical-device CFO who thought he would video himself chiding a Chick-fil-A employee at a drive-in window? A DARE loaded the gun. His upside was some likes and comments from anonymous strangers on YouTube; his downside was losing his career and life savings. He spun the barrel and lost. Remember, as

Unscripted

entrepreneurs, we're trying to manipulate probability and have asymmetry work for us, not against us.

However, the real danger of DAREs are risks that are hidden or not easily forecasted—or asymptomatic risk. For instance, if you're speeding on the interstate from Colorado into Kansas with a broken taillight and a pound of weed in your trunk, your DARE is asymptomatic and very asymmetrical. The catastrophe is not easily seen: getting stopped by police and thrown into jail for months, perhaps years.

Similarly, the new buzzword worthy of clickbait headlines on financial websites nowadays is this concept called FIRE—or Financial Independence Retire Early. With a ten-year bull-market behind us, this movement is based on the compound interest scamP6—living frugally during your youthful working years while saving and investing most of it in the stock market. The hope is to "retire early" and continue living the same frugal existence based on presumed growth rates and systematic withdrawals. Participants call this financial independence—I call it financial dependence. Why? The risk is asymptomatic and asymmetric. If the stock market crashes or goes into a three- or five-year recession, retirement turns into a reckoning. OMG, my life savings are gone! OMG, my withdrawal calculations didn't account for three years of negative returns!

While I respect the movement's central tenet, freedom, denial of reality is best served asymmetrically. There is a 100 percent certainty that the stock market will eventually crash, and with it, life savings will too. While most markets eventually recover, most people can't survive the duration. Freedom is the right neighborhood—relying on the stock market for that freedom is the wrong house. Newsflash: changing the prison warden doesn't change the prison. Swapping your slave-owner from a corporate job to Wall Street doesn't change slavery. In other words, FIRE is a DARE. Bullet, meet barrel.

As an

Unscripted

Entrepreneur, stock market crashes or economic recessions are not DAREs. If the stock market crashed tomorrow by 50 percent or didn't earn positively for the next thirty years, my lifestyle wouldn't change. I don't have to update the resume and hunt for a job. There is no DARE. In fact, during the C0VlD-19 pandemic, my income didn't drop. It went up.

Bet on it: The better you manage—or preferably, eliminate—asymmetrical and asymptomatic DAREs, the better life you will have. Life as an entrepreneur is filled with risk. The question is, are the chances you're risking worth the best- and worst-case outcomes? Are you risking everything for twenty minutes behind a red curtain at the back of a sleazy strip club? What kind of probabilities and expected valuesS56 are you dealing with? Think consequentially for a few seconds, and you will expose the DARES.

And avoid the stupid games that have stupid prizes.
As for who this is, I will
NOT
post this person's real name or username simply because it won't change what happened. If that information is important to you, you are welcome to seek your own channels for that information. Please don't post it here, news reports, or anything else. Again, it won't change what happened and put things back to normal.
Bottomline, our actions and their consequences can extend to other people beyond ourselves. THINK before you ACT. When I think about this incident and how many lives that will never be same, you truly learn to respect the gravity of our choices.
A truly sad, devastating, and tragic situation.
Be smart people, stay safe, and learn how to spot DAREs that can fire because of ONE bad choice.... one day it might save your life, or someone else.
EDIT: Here is a link to the memorial fund for the victim. If you feel it in your heart, please donate a few dollars.
My name is Britney Rodriguez and I'm making this go fund me on behalf of m… Britney Rodriguez needs your support for Memorial expenses and body transportation