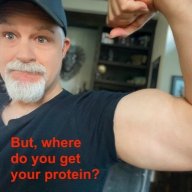 I followed the science; all I found was money.
Staff member
FASTLANE INSIDER
EPIC CONTRIBUTOR
Read Rat-Race Escape!
Read Fastlane!
Read Unscripted!
Summit Attendee
Speedway Pass
Jul 23, 2007
34,939
137,932
Who is "that guy"?
"That guy" is so insecure and pissed-off about his life that he's already given up. And he looks at others who haven't given up, with contempt, disgust, and yes, a little bit of jealousy-- not because those people are different, but because those people are a blunt force reflection of his own insecurities and inadequacies.
But a lot more is going on here....
Instead of working to change his outlook (internal work) "that guy" works on changing everyone else's outlook (external work) to be in alignment with his own.
In internet parlance, we call these folks "haters".
But in psychological parlance, we call this the
EGO
-- no, not the "I drive a Lambo" ego, but the the part of the mind that constructs the concept of
IDENTITY
and
SELF
-- the
EGO
is only interested in defending the false internal reality it's created.
So in effect, "that guy" doesn't work on changing
HIS
situation, he wants to change everyone else's situation. On the web, this is attempted through the use of a variety of written parlor tricks; pseudo-intellectualism, nihilistic arguments, absolutes from generalizations, all wrapped up in a cute tiny bow of self-loathing narcissism and self-importance.
As a result "that guy" (who hasn't accomplished anything in life) has an unhealthy obsession with his own superiority and righteousness, although his own self-funded superiority and righteousness hasn't produced any meaningful results in the real world. No, he lives with his mum in a dilapidated flat on the seedy side of London. This fact alone is seething to his ego, further entrenching the EGO in a "
fight-or-flight
" mode to defend the situation. For 6 months we got FIGHT (and it didn't get any traction whatsoever) so now we get FLIGHT.
All of this dissonance and conflict caused by the identity grandeur makes him terribly angry, especially when the real world doesn't reflect back on his perceived superiority. So the EGO works to resolve the conflict.
Hence, you get the "that guy" lashing out unprovoked on forums, Reddit, and in the comments section on YouTube videos and blogs. Doing so props up the delusional EGO that the "victim" has engineered for himself. In other words, it feels good (temporarily) but more importantly, it maintains the status quo and the superior concept of self.
So let me be clear...
#1:
If you walk into a gym filled with people taking action to change their lives-- whether it be health, obesity, or training for a marathon-- and you find it acceptable to stand atop the counter and interrupt everyone by screaming, "
You're all losers and you'll NEVER lose weight, NEVER get healthy, and NEVER win any competition!!" --
you've got serious issues.
(A side note: Compared with the general population NOT at the gym, those people at the gym have a significant improved probability of positive change than those not.)
#2:
If you feel compelled to do #1 unsolicited (and you actually do it, demonstrating a total lack of self-awareness)
you will be banned
-- not because you "feel that way" but because you lack the emotional intelligence to understand that some generalized opinions about an ENTIRE GROUP are better kept to yourself. No one asked for your opinion unless someone asked or spent money for your opinion. But then again, we aren't dealing with an opinion here, but a complex psychological process of ego and identity. And yeah, you aren't as important as you think.
In other words, no one here cares about your opinion other than the fact it was disruptive and disgustingly selfish.
#3:
If disruptive actions like #1 resonates with you and you feel the need to do that in the future, do us all a favor:
LEAVE
.
In this case, there is no door, just an X on your browser and a DELETE button on the forum's icon
.
#4:
If you feel the forum isn't working for you through a variety of reasons (those cited above or perhaps something else we've failed at) you are FREE to LEAVE at anytime.

Login to your account, unselect "forum email" and you'll never hear from us again.
No announcement is needed.
No thread is needed.

You just leave and never come back.
Pretty simple eh?
Think of it this way...
If you're watching a live play at a theater and everyone around you is enjoying it but you aren't,
you leave and walk out.
Done.
End of story.
You don't stand up, interrupt the performance and the stage actors and scream like a petulant toddler, "
This play sucks and the actors are terrible. I'm leaving!
" Doing so makes you a douchebag and a self-important prick.
We're here for all the same reason.
To rewrite the Script with our vision and with our pen.

It's different for everyone and that difference isn't what's important.
If you are here to be "that guy" -- the clever douche with a box of donuts shoved in our face while we grind the treadmill, GTFO.