Sweeping Shadows From Dreams
FASTLANE INSIDER
EPIC CONTRIBUTOR
Read Fastlane!
Read Unscripted!
Speedway Pass
User Power
Value/Post Ratio
602%
Jan 14, 2013
5,060
30,462
Not a sales ad.
Growing my
YouTube channel.
Just crossed 800 subs and thought it would be cool to do a 1k giveaway. Entry is open until the channel reaches 1,000 subscribers.
Since the channel is heavily skewed toward a freelance audience, the prize is freelance relevant. The same setup I used to get going on Upwork the first time.
Logitech HD Pro Webcam
Blue Snowball Ice Microphone
These two items form one prize,
a
basic freelance starter kit
. This is a giveaway, not a contest. The winner will be chosen at random. To be eligible you need to
subscribe to my YouTube channel
. The other requirement is that you
sign up on ANY freelance platform
and provide proof via screenshot that you've sent at least 1 proposal.
(Send via PM, email at lex@sinisterlex.com or via the chat below)
Obviously this may not appeal to seasoned Fastlaners. This is more for beginners. Those looking for a place to start. That said, all are welcome to join. That's it as far as the giveaway goes.

Now the other free stuff..
---
1. Instantly Chat With Me & Others In A 24/7 Chat Server.
Go ahead...try it. It's in my signature or
just click here.
It's free. I'm in there all day long. Get feedback and help from myself and others in regards to copywriting, freelance, entrepreneurship or whatever.
• I'm
NOT
selling coaching or courses.
• I
do
share my YouTube videos and other helpful links.
Here's what it looks like inside..
All kinds of cool stuff going on. I'm usually on by 4am. I stick around throughout the day, but go silent sometimes when I'm working on business or client stuff. Beyond that I head out for the night around 6-7pm CST. Usually I respond instantly, but if not, I still see your questions and comments when I return, and you can chat with each other anytime.
2. Free YouTube Livestream Discussion / Hangouts
A few days ago I held our first
YouTube livestream hangout
. It's a live discussion where we all get together and talk about the topic of the stream or just hangout. There's a live chat feed and I take questions straight from the feed. You get to talk to me or anyone else who's in the chat.
It's a lot of fun. The tentative schedule is below.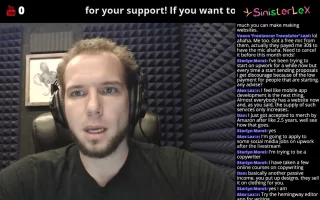 •
Friday = Focused entrepreneurial discussion topic.
This one is more structured. Ask questions and share your thoughts around the topic of the day.
This Friday we'll chat all things blogging
from getting started and finding clients, to niching down, earning higher rates, and even getting into publicity. We'll also cover anything else that comes up that has to do with the topic.
•
Saturday = General hangout (all topics / questions welcome)
This one is a general Q&A / hangout where we just go live and chat. Could be entrepreneurship, freelance, copywriting, you broke up with your girlfriend, your mom won't let you drive her van to school, or whatever you feel like bringing up.
There's 2 ways to get notified about the Livestreams. The first way is to
subscribe to my YouTube channel
and be sure to click the
NOTIFICATION BELL
so you get notifications. The other way is to join the
private chat
where upcoming livestreams & livestream topics get announced a week or so in advance.
Note: the livestream is open to donations so I can keep the channel AD FREE. You do NOT have to donate. If you do, there are rewards, as you can see in the video description of any stream I do. I've tried to make it valuable for everyone. You support the stream, I do more streams, and give you neat stuff in return. But if you just show up, subscribe, and hang out, that's totally cool too.
Whew..!
I think that's everything, but if you got questions drop 'em below.
Later!
Last edited: