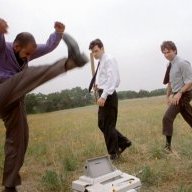 Freedom
Read Fastlane!
Read Unscripted!
User Power
Value/Post Ratio
157%
Feb 7, 2018
65
102
I have been listening to
Unscripted
by
@MJ DeMarco
on audible everyday trying to burn its message into my head, I recently referred it to one of my good friends.
He is a "successful" slow-lane guy; but he is the know-it-all, nay-sayer, contrarian type that loves to suffocate dreams and throws a wet blanket on any sort of
Unscripted
hopes of escape.
I referred the book to him because I wanted to build some type of fast lane business idea with him and hopefully use the book as a framework or a guideline.
A few hours later this was his response
"I browsed through it and honestly I'm not sure fan of these types of books just because they keep covering the same philosophical point, just in different ways. I agree with it and this prefer books that are way more practical, that go deep into details like start a info product like this, price it 10x, sell it here, use this tool, etc. But I think you like it because it's motivational which I get, it's important to get a good dose of that."

His response reminded me of MJ saying in the book, there is no f**king list. Also you can't judge a book by its cover or its first few pages. Perhaps he doesn't take my recommendation seriously because I get excited about entreprenuer stuff all the time, perhaps over-hyping things at times.
But it had me thinking about the practicality of MJ's books, I'd say they are pretty damn practical, and a lot of action items that you can run with. It is sort of the map, and most importantly it is conditioning the mind to think in terms of fast-lane businesses. And, from what I have heard from gurus and the wealthy, 80% of business is the inside game…Thoughts, anyone?