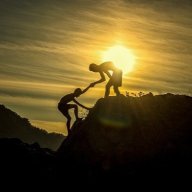 Silver Contributor
Speedway Pass
User Power
Value/Post Ratio
257%
Oct 16, 2022
206
529
Wow. Could you be any more of a wet blanket? It's "interesting"?

It is so interesting how "from memory" you throw aspertions, attack and under cut what is actually a great point and applicable in so many situations.

You're a writer, and a marketer, so it's clear that your word choice of "suspicious" and "overrated" and "at times false" lay bare your thoughts on this subject. I'm starting to understand why you weren't well received when you got home. Contrarians usually aren't.

I'll give you two 1% stories.

Going into the 1988 season, Pat Riley's Lakers had won NBA championship this season before. He was concerned about complacency. How do you get a team of champions and future Hall of famers to improve when they believed they just needed to maintain?

He challenged them all to look at what each of them did, and go

1% better

. The rebounders, just get 1% more rebounders. The shot makers, just hit 1% more shots.

The Result? The 1988 Lakers were one of the all-time greatest single season teams, arguably the greatest Lakers team ever, and cemented themselves as a dynasty.

Having never read atomic habits or heard of the British cycling team, I still had heard of Pat Riley and his 1% rule.

At the beginning of last year I faced a problem.

I was in the process of purchasing a client's business with a partner. My partner was the lead salesperson in an e-commerce store. But just three years prior, he had been working in newspapers. He didn't see himself as a salesperson. He didn't see himself as a business person.

He had been working in his dad's business for 3 years, and now he and I were about to buy it.

When I took a look at the books I identified one big problem. We were giving too much away in discounts. 8.4 discount rate the year prior to purchase.

After 3 years of his dad preaching that this is what we have to do to make sales, I knew I wasn't going to convince him overnight. I floated the idea to him of lowering the discount rate and met with a lot of resistance. I needed to give him a task that was believable and achievable.

So I asked him to lower our discounts by 1%. I showed him how much it was impacting profit and how much more profit would make for each 1% reduction in our discount. So if he would normally quote 10% off, make 9. Make 5 4 instead. You get the idea.

This was something he could do. And he took to it very quickly. By the end of first quarter last year, our discount rate had dropped to 4.4%, almost cut in half. But our sales were 20% greater then the prior year.

This year we had almost the same result. First quarter, our sales are up 18%, and our discount rate at dropped to 2.8%.

And it all happened through slow steady incremental improvements that sounded believable and achievable.

Now of course your original point is valid that if you don't have a real business, one percent improvement doesn't matter.

Of course someone should have a real business before they focus on improving the business. Your point was so self-evident, I don't know why you felt the need to argue against a good point.

Funny thing about this stat. It is similar over-hype self-help drivel that is flat out false. Ofc.

I wouldn't normally care, except that you took exception with 2 people who are more successful than you and you literally did that same exact thing that you called them out for with your very next comment.
Ironically, I don't think I express myself very well on this forum as it's not the first time I get negative responses from a comment that wasn't even incendiary but just aimed at delivering value.
Looks like the "

1% better

" commentary needs an extraction into its own thread, history says those don't go well so I'm hesitant.
lmao