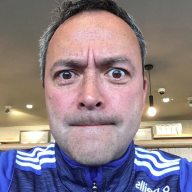 Pick a direction. Get started. Keep going.
Staff member
FASTLANE INSIDER
EPIC CONTRIBUTOR
Read Fastlane!
Speedway Pass
May 20, 2014
13,979
53,173
To date I've had over 700 PM's with fellow forum members.
(EDIT: 3,000+ PMs now.)
I PM to give thanks for following me or for giving me rep. I always ask how things are going, and strike up a brief conversation.
I've noticed some common themes from these conversations (especially with people trying to get started or trying to "get traction").
My main learnings are that:
People often over-complicate things.


People often get in their own way.


People often believe they can't give value to the forum yet (saying nice things like "I'd love to give back when I can add value.")
Sound familiar?
There's been some classic GOLD threads addressing this, and here's a few:
I wrote a post along similar lines:
And Justin Jackson wrote a great article here:
In my opinion:
Over-complicating things, getting in your own way, and not believing you can add value are all symptoms of the same thing.


Each of the posts listed above are trying to address this exact same thing.


The symptoms above are all related to being "me" centric, and the posts above are all ways to stop being "me" centric.
If your goal is to help others
, then things get a lot less complicated.
If your goal is to help others
, then you're less likely to get in your own way - because you're not even in the picture anymore.
If your goal is to help others
, then you'll realise that giving thanks to other forum members can add a lot of value to their lives, and to the forum. (We know we should give to receive, but I'd no idea of the power of "giving thanks" until I thanked so many people in the forum.)
A few months ago I decided to "learn to create talking head videos".
I got tangled up that first evening, because my goal was wrong.
My goal was to create a video.
My goal was not to say "thank you" to
@SinisterLex
for the videos he was adding to the forum.
I screwed up.
I over-complicated things.
I got in my own way.
I believed I couldn't add value to the forum.
All because I was thinking about "me", and not thinking about Lex.
After I gave myself a stern talking to, I created my very first talking head video.
Here it is (and it's very relevant to this thread):
I've done 16 videos so far, and it's not until this evening that I've noticed a common theme.
Here's another video that might help you:
Here's another where I talk about my "founding story"... a story from 2009 that still sends shivers down my spine when I remember it:
I talk a bit more about that story in
this radio interview
.
Who will you help this week?

Who will you thank today?​
Last edited: