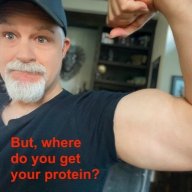 I followed the science; all I found was money.
Staff member
FASTLANE INSIDER
EPIC CONTRIBUTOR
Read Rat-Race Escape!
Read Fastlane!
Read Unscripted!
Summit Attendee
Speedway Pass
User Power
Value/Post Ratio
439%
Jul 23, 2007
37,039
162,437
Do you want to change your current situation?
Then change your identity to a
GROWTH IDENTITY
from a
STATUS QUO IDENTITY
.
A STATUS QUO IDENTITY is what you are.
"I'm an engineer at Intel and someday would like to quit to start my own business."​
A GROWTH IDENTITY is what you want to become, not what you are.

"I'm an entrepreneur who works at Intel."​
KEY CONCEPT
: Your self identity works to be congruent with reality. If the identity = reality then the status quo will remain the status quo.
Conversely, when there is incongruence, the status quo violates your identity and you will ACT to change it. You will be more likely to work daily to make it congruent. If your identity is congruent with the status quo, your action then becomes a matter of convenience. In other words, you most likely will NOT change.
You will ALWAYS be "an engineer at Intel who would like to quit someday and start a business."
In my 400+ page book,
UNSCRIPTED
, the concept of
identity hacking
is a difficult find: It's found in the part about meaning and purpose, specifically, page 197.
In my life, I've ALWAYS self-identified as an entrepreneur since my teens and it helped me make that identity into a reality.
Whatever my future
goals
might be, I know I will use this identity hack to make it happen.
Screenwriter? I'm a screenwriter, not an aspiring screenwriter.
Options trader? I'm an options trader, not an aspiring trader.
Comedian? I'm a comedian, not an aspiring comedian.
Hack your identity and then prove it daily with action to what you will become.